 Naylah Ahmed's compelling and vivid thriller 'Mustafa' opens this month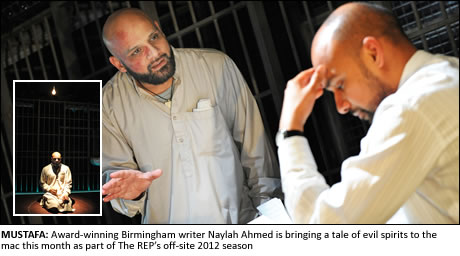 AN award-winning Birmingham writer is bringing a tale of evil spirits to the MAC this month.
Naylah Ahmed's compelling and vivid thriller, Mustafa, opens at mac Birmingham as part of The REP's off-site 2012 season from 17 to 21 April.
The production tells the story of Mustafa, who finds himself imprisoned for the death of a teenage boy during an exorcism. Racked with guilt at the loss of an innocent life and isolated in a world where his beliefs are constantly challenged, he tries to avoid trouble. But when prisoners who taunt him suffer mysterious injuries and prison officers start behaving strangely, Mustafa starts to think the evil djinn he tried to banish from the young victim's body is still with him and he must face it once more.
Is Mustafa the deluded killer of a teenager or a brave innocent man who risked his life to deliver the boy from a dangerous being? This compelling and vivid thriller where nothing is quite what it seems will keep you on the edge of your seat.
Writer Naylah Ahmed reveals she drew inspiration for the play from stories told to her as a youngster.
 "Throughout the eighties we spent many Eid nights during family get togethers huddled in a room listening to djinn stories that kept us deliciously scared but that we heard, essentially, as stories, fiction," she said.
"As I got older I started thinking about where these stories began, and realised when they were first recounted, miles away in Pakistan, they were told as accounts of something that had really happened. So why didn't we see them that way, what had changed? There are so many ways of exploring this rich subject matter, but the transition of account to story is what first sparked the idea for what finally came to be Mustafa."
Naylah has been writing since the late 1990s for stage, radio and television.
She was a founding script editor for Silver Street, the first ever British Asian soap. And won the Bruntwood Prize for Playwriting with Butcher Boys in 2008.
Tickets for Mustafa, which runs from Tuesday 17 to Saturday 21 April, are available by calling 0121 236 4455, or online at
www.birmingham-rep.co.uk