 Birmingham Lad lands role in Bollywood Blockbuster opposite A-List Stars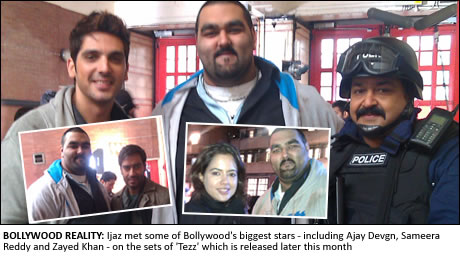 EXCLUSIVE By Zakia Yousaf 
GROWING up Ijaz Rashid had one dream – and that was to be a movie star. So look closely on the big screen this month and you'll catch the Birmingham lad in Bollywood's latest all-star Blockbuster 'Tezz'!
The 24-year-old from Solihull found himself rubbing shoulders with the likes of Anil Kapoor, Ajay Devgn, Zayed Khan, Sameera Reddy, Mohanlal and director Priyadarshan, describing the experience as a 'dream'.
Ijaz landed a role in the film after just one audition and was given the role of a henchman of another character, 'JOJO', played by Emmerdale's Dominic Power.
"I had one goal in life and that was to be in a Star Wars film," Ijaz told The Asian Today.
"I am a huge fan of Star Wars so the dream to be an actor was always there. In one way my dream came true even if my first acting experience wasn't a Star Wars film! Just thinking about seeing myself on the big screen gives me Goosebumps!"
Describing himself as a 'Bollywood freak', Ijaz was naturally star struck when meeting his film idols for the first time.
"I felt like I was dreaming and just to meet them was surreal," Ijaz says.
And he had nothing but praise for his co-stars.
"I have been watching these actors growing up and to finally meet them was out of this world. You would think that they would be stuck up and snobby but it was the total opposite, they were very humble and we would eat together tell jokes and tell  life stories and just chill."
Ijaz hopes to use his co-stars to perfect his technique as he looks to continue with his Bollywood career.
"We don't ever appreciate the amount of hard work actors put into a film until you see

them up close doing what they do best," Ijaz says.
"The amount of effort these guys put into perfecting their characters is unbelievable. I mean you just get inspired as an upcoming actor to step up your game and working with Ajay, Zayed and Mohanlal was an unbelievable experience."
And while most Bollywood films shoot in exotic foreign lands, Ijaz found himself not too far from home as the crew chose Birmingham as one of four locations.
The old Aston fire station, Botanical Gardens, Bullring and Corporation Street were all used as locations alongside Crewe, Scotland and India.
So what do Ijaz's family make of his new Bollywood career?
"My aunty was going crazy when I told her I had met Ajay Devgn! She's a huge fan of his and was even more excited when I told her I had actually shaken his hand!

"My mum, dad and brother are very proud of me and my Granddad and Grandma were over the moon when I told them.
"You know this is the biggest accomplishment of my life and my whole family have supported me one hundred per cent and I love them for it!"
Tezz releases in cinemas on 27 April 2012