 Tirbhavan Singh Chodha named 'Young Carpenter of the Year' in BBC Three show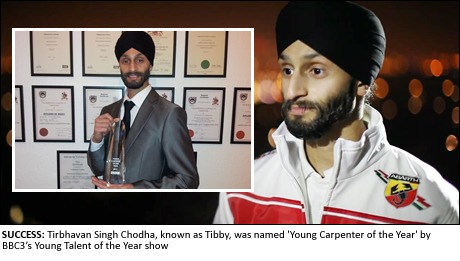 A LEEDS man has been named as the UK's best young carpenter by a TV show that searches for the most talented and hardworking young people across a wide range of trades.
Tirbhavan Singh Chodha, known as Tibby, was named 'Young Carpenter of the Year' by BBC3's Young Talent of the Year show. The third series of the show started last month with five new categories including carpentry, farming, gardening, tailoring and baking.
Tibby recently qualified from Leeds College of Building after completing three separate qualifications over six years including a carpentry and joinery Apprenticeship, a site supervisor course and a HNC in Construction Studies. 
He currently works for Interserve at Castleford and joined the firm when he embarked on his Apprenticeship in 2005.
Speaking about the show, the 22-year-old said:  "There were thousands of applicants for this show and they were cut down to a shortlist of 100 who were all invited to the BBC's studios in Manchester for an interview and a theory test. Of these, 20 were then asked to complete a practical test and just four of us were selected to compete in the final show. 
"When I originally applied I never imagined that I would win and it's an unbelievable feeling. I now hope my achievement can inspire other young people to go and achieve great things and it shows that anyone can be successful if they put their mind to it." 
Ian Billyard, Principal at Leeds College of Building, added: "This is a fantastic accomplishment and we're all delighted for Tibby. He was a great student and continually demonstrated that he had an unlimited amount of potential and a hugely promising career in front of him. He won a wide range of competitions during his time at College and thoroughly deserves to add this latest one to his trophy cabinet!"
During the show the competitors had to create a floating duck house and then fit a complete functioning kitchen in just three hours.