 British Sikh stars speak about their Turban Identity in new series '#MyTurban'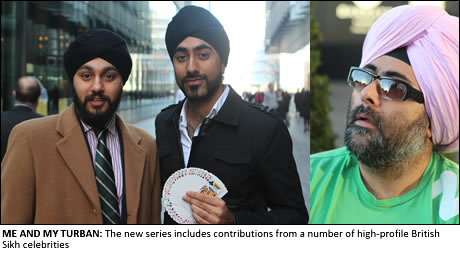 A NEW series of short videos highlighting the importance of the Turban and personal experiences of British Sikh stars, personalities and successful professionals has been launched this month.
The "#MyTurban" series, which was launched on 2 March, includes contributions from a number of high-profile British Sikh celebrities including Hardeep Kohli (comedian), Kulveer Ranger (London Mayor's office), Amardeep Singh Dhanjal (magician), Jay Singh- Sohal (Sky News), Jassi Sidhu (singer) and Fauja Singh (100 year old marathon runner); as well as role models from public life and the business world.
The series is an initiative by the Arts Council exhibition, "Turbanology: Sikhs Unwrapped" and comes as the project prepares to be hosted by Ernst and Young in the City in April 2012 – to mark the Sikh festival of Vaisakhi.
Speaking about the film series, contributor and host organiser Amarjit Singh said: "The #MyTurban series is an innovative way to promote the fantastic achievements of British Sikhs – who have become successful in so many different walks of life. We look forward to sharing their stories and celebrating the contribution Sikhs make to prosperity in Britain this April."
In the short films, contributors give insight into what their Turban identity means to them, their practical experiences of working in diverse industries and how they hope to inspire others to maintain their Turban and uncut hair – key symbols for the Sikh faith and community.
Describing in one word what the Turban means to them, Kulveer Ranger said it represents "confidence" while Hardeep Kohli stated the colours he proudly ties stand for the "Punjab" and its vibrancy. Jay Singh-Sohal added that it was "pride" in being upstanding while music producer Satinder Singh (DJ Stin) said it was his "crown".