 Tajinder Kaur's pain as student is jailed for luring her son to his death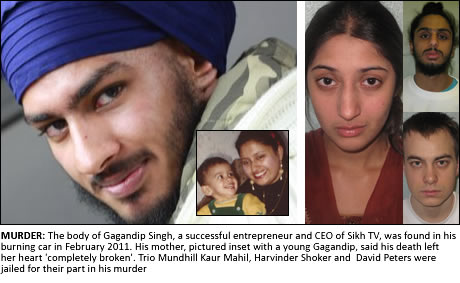 THE mother of a murdered TV executive has spoken publicly for the first time after three people were jailed for his death.
Tajinder Kaur said she has struggled to cope since the murder of her only son Gagandip Singh, a successful entrepreneur and CEO of Sikh TV.
The body of the 21-year-old was found in the boot of his burning car in February 2011.
He had been lured to his death by medical student Mundhill Kaur Mahil, 20, who invited the television executive to her Brighton home where he was attacked and later killed by her associates Harvinder Shoker, 20, and David Peters, 20.
Police said Gagandip was unconscious but still alive when he was put in the boot of his car which was set alight.
At the Old Bailey Mahil, Shoker and Peters were convicted and jailed for their part in his murder.
Mahil, a Brighton and Sussex University student, was convicted of grievous bodily harm with intent and was jailed for six years in a
Youth Offenders Institute.
Shoker was jailed for life and told he would serve at least 22 years after being convicted of murder, while Peters was convicted of manslaughter and jailed for 12 years in a
Youth Offenders Institute
Following the convictions Gagandip's mother said the death of her son had left her "utterly broken".

It is the second tragedy to hit the family after Gagandip's father was shot dead in 2009 during a trip to India. 
"Since Gagandip's death I feel like my heart is completely broken and taken away from me is my son and a source of joy in my day," she said.
"My family now consists of only me and my daughter. I always think how different our lives could be if Gagandip were still here. I grieve not only for the loss I feel personally as a mother but also for a future that now looks far different without my son in it.
"When I first learnt of Gagandip's death I was completely and utterly broken. I could barely function on a day-to-day basis and stumbled through each day not really knowing what was going on. I do not have the support of a husband as he also died not so long before Gagan. I cannot describe on an average day my life since Gagandip's death because they have all blended into one."
The Old Bailey heard that Gagandip fell in love with Mahil, a medical student, after the two became friends. However, they fell out in August 2010 following an incident in which she alleged he sexually assaulted her at the Brighton house she shared with other students.

Following that incident Mahil refused to speak to Gagandip despite numerous attempts by him to contact her.

In the following months Shoker entered Mahil's life and he was also in love with her. Mahil described him to friends as her 'protector' and told housemates that male friends of hers wanted to exact revenge on Gagandip but she would discourage them.

However on 25 February 2011, far from discouraging anyone, she lured Gagandip to Brighton, suggesting a meeting at her house to clear the air.

Gagandip drove from his Bexleyheath home to Brighton, and was caught on CCTV cameras at a service station where he bought Mahil a teddy bear.

Lying in wait for him at the address was Shoker and Peters who had been collected from Brighton Railway Station by Mahil a few hours earlier. Gagandip was beaten unconscious, wrapped in a duvet and bundled into the boot of his own car.

Shoker and Peters then drove the car to Blackheath where they poured petrol over the car and Gagandip, who was unconscious but still alive.

The burning car caused a loud explosion and the London Fire Brigade were called to extinguish the flames. It was fire fighters who discovered Gagandip's body in the boot of the car.

Mahil contacted the police incident room the following day claiming to be concerned for a friend whom she had heard had committed suicide. She was arrested when detectives became concerned about her story and version of events leading to Gagandip's death.
Speaking after the verdict Detective Superintendent Damian Allain, of the Homicide and Serious Crime Command described Mahil as "calculating" adding had it not been for her "deceit and trickery" Gagandip would still be alive.

He said: "Throughout the investigation and trial Mahil portrayed herself as a victim, denying in any way that she had lured Gagandip to Brighton knowing Shoker and Peters were going to attack him. At trial she claimed she had gone to police voluntarily to assist them in their investigation. In fact under cross examination she was forced to admit having misled police. She tried to divert blame to others, suggesting that all she had done was to lure him to what she explained was going to 'a good talking to' or a lecture about his future conduct and that at most he may have succumbed to a 'slap or two'.

"It is clear to me, now endorsed by the jury's verdict, that her actions were calculating and that she was at the heart of a criminal conspiracy with Shoker and Peters of tricking Gagandip to Brighton to seriously assault him which resulted in his death. All this from a medical student embarking upon a career in a caring profession. I have no doubt that had it not been for her deceit and trickery, Gagandip would not have been murdered on that fateful night.

"I would like to pay tribute to Gagandip's mother and sister who have acted with the utmost dignity during the investigation and subsequent trial despite having to listen to the lies proffered in the defence cases for all three defendants. I hope Gagandip's family and friends are able to find some small comfort in the convictions of Mahil Shoker and Peters."