 Birmingham students hope to make a difference for John Taylor Hospice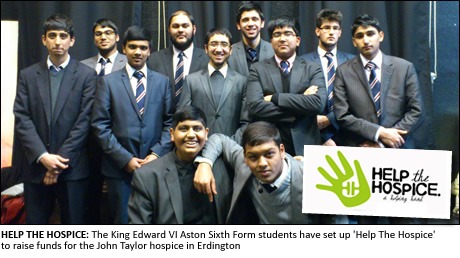 A GROUP of Birmingham students are proving today's youth do care about their communities as they look to raise funds for a city hospice.
The eleven students from King Edward VI Aston Sixth Form in Birmingham are eager to do their bit for the John Taylor hospice in Erdington who had their funding scrapped following NHS cuts.
Through Envision – a national education charity that provides youngsters with opportunities to make a difference in their communities – the students have set up 'Help The Hospice' as they look to raise funds to help refurbish the hospice.
The group, which includes 17-year-old Isma'il Mustafa, is already hard at work raising much-needed funds.
And for Isma'il, the recent loss of his grandmother has made him even more determined to do his bit for the hospice.
"My grandma died this year from cancer after 17 years of us living together," he told The Asian Today.
"It was traumatic; I remember the massive stress and strain a terminally ill relative represents. And who doesn't have, or has never had, a terminally ill relative? Those who can alleviate the difficulties or simply lend a hand are providing a great service and John Taylor Hospice does just that. Not only do they care for patients in the hospice but they offer support to many families."
The students want to raise awareness about the hospice and raise money for refurbishment they plan to carry out themselves.
"We aim to paint some personality into two rooms in the hospice; provide them with a large garden table, many books, or Kindles, a Nintendo Wii as some patients can't go out, fragrant flowers, a fridge, a dishwasher, pin boards, arts demonstrations and many more items," Isma'il says.
And he's hoping the efforts of the group will help inspire other youths to contribute to their own communities.
"We like to think that we are a good example of Asian youth's showing initiative and being a benefit to their community," he says.
"We want to show that youngsters can contribute constructively to their communities on their own initiative."