 Suleman Sacranie named Midlands Young Entrepreneur of the Year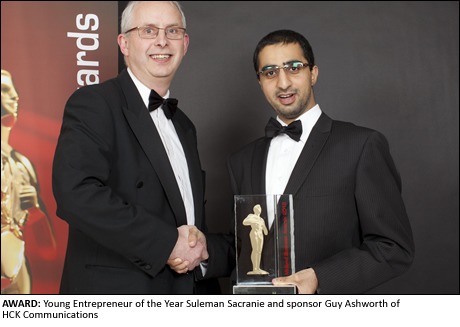 A FORMER University of Leicester student who dropped out to launch a discount shopping website has been named Young Entrepreneur of the Year at the Midlands Business Awards.
Suleman Sacranie, the brains behind 99pWholesaler.com, won his award after beating off the challenge of five other contenders.
He received the trophy from sponsor Guy Ashworth of HCK Communications at a ceremony at the 2012 Midlands Business Awards, held earlier this month at the NEC Hilton Metropole Hotel.
99p Wholesaler.com is the third company to have been set up by Mr Sacranie. It features daily deals across the FMCG industry at competitive prices and offers branded goods for bulk purchases by retailers in a similar way to the traditional cash and carry model but online.
Suleman said: "I am delighted to have won this award. It recognises the huge efforts my team have put in and the support of my backers."
 He also paid tribute to the University of Leicester, particularly Rajinder Bhuhi, Enterprise Learning Officer who was on stage with him to collect the award.
Rajinder said: "Suleman was shocked and delighted to win. He was very grateful for our nomination and all the support we have given. It is great to see his commitment and determination acknowledged for starting his businesses and attracting investment."
This is the sixth year that the awards, organised by Leamington Spa-based UK Special Events, have taken place.
Its MD Harj Sandher said: "We are delighted with the quality of the entrants this year and very pleased for Suleman. His drive and enterprise are quite breathtaking for someone so young."
There was also a special Lifetime Contribution to Midlands Business award to vice-chancellor Prof Sir Robert Burgess recognising his work in growing the University of Leicester.