 State-of-the-art heart research centre planned for Leicester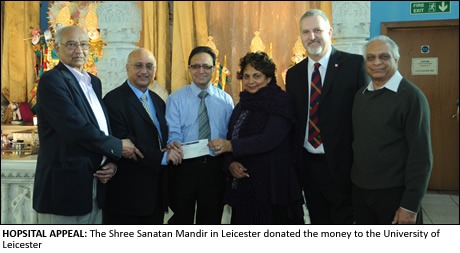 A CHEQUE for £1001 has been presented to the University of Leicester in support of an appeal for a state-of-the-art heart research centre at Glenfield Hospital.
The presentation came from the President, Trustees and representatives of the Shree Sanatan Mandir at a small gathering at the Temple in Weymouth Street, Leicester.
In August the University launched the public phase of its appeal to raise the final £1million required to complete and equip the Cardiovascular Research Centre (CRC).
The new £12.6 million research centre will impact radically on both the scale and quality of research and treatment of cardiovascular disease all over the UK.
The University has committed over £6 million of its capital resources to this major project and the British Heart Foundation has provided flagship funding for the Centre.

Cardiovascular disease is the UK's biggest killer.  It causes 1 in 3 deaths in this country and kills over 198,000 people in the UK every year.  Each day, in the East Midlands alone, 9 people die prematurely of heart disease and every 6 minutes somebody dies of a heart attack.
Steve O'Connor, Director of Development at the University, said: "Many families and members of the Sanatan Mandir have been touched by heart disease and leading members of the temple wanted to show their support for a local project which will have positive benefits for the health and well being of their community.
"The University welcomes the support of all communities in Leicestershire and Rutland in helping to achieve the University's bold new vision for Cardiovascular research."

Vijay Sharma, member of the University of Leicester Development Board said: "We are delighted with the fantastic donation and support of the members of the Shree Sanatan Mandir for the University's Cardiovascular Research Centre Appeal.   The pioneering research undertaken at the new Centre will benefit the many thousands of patients and families whose lives have been affected by heart disease.  The support of the local community for our fundraising will be essential in helping to equip and complete this state-of-the-art building."