 Islamic-Inspired Piece by 'World's Smallest Engraver' Sells for £50,000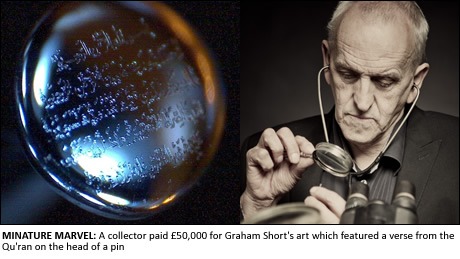 AN Islamic-inspired artwork by one of the UK's foremost master craftsmen has been sold to a collector for over £50,000.
Micro-engraver Graham Short, world-famous for his tiny engravings including 'Nothing Is Impossible' Engraved on the Sharp Edge of a Razor Blade, painstakingly engraved The Word of God – a chapter from the Qur'an on the head of a pin – involving hundreds of hours of work in his studio.
"I've always been drawn to the beauty of Islam as a living faith," says Graham, who himself is non-Muslim. "Equally, the Arabic characters have their own intrinsic appeal, and I felt that micro-engraving the chapter on such a small scale was not only in keeping with, but also an homage to, the intricate artwork that has been a feature of mosques and of the Islamic aesthetic generally down the centuries."
Prior to commencing work on the piece, Birmingham-based Graham visited religious leaders at the city's Central Mosque to ensure that the work would not cause offence. There, he was told that the piece would be a very welcome addition to art inspired by Islam.
Graham works at night because the incredible detail of his work requires a minimum of vibrations from passing traffic. The physical extremes he goes to for his art include long-distance swimming to help maintain a low pulse, securing his engraving hand with vintage leather luggage straps, and even resorting to Botox injections around the eye area to help reduce blinking. His work is sought after all over the world, with collector interest constantly coming in from the US, Germany and Russia amongst others.
Although The Word of God was not exhibited publicly after completion, a collector visiting a solo exhibition of Graham's works in Cambridge heard about the Qur'an engraving and asked to see it. Having now purchased the piece, the collector wishes to remain anonymous.
"The sale of The Word of God is evidence of a very healthy and dynamic collectors' scene around Islamic-inspired art in the UK," says Rod Lacey, managing director of fine art brokers White Space, which represents Graham's work. "Graham's work sits at the crossroads of master craftsmanship and fine art – an area which boasts a very long tradition in Islamic culture – so for me, Graham working on Islamic-inspired pieces like this is his way of paying a wonderful compliment to centuries of tradition from craftspeople in the Islamic world."