 Ali Jawaid died after being 'viciously attacked' in van and mobile phone robbery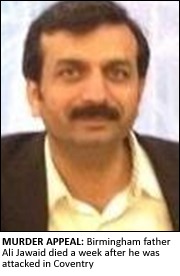 DETECTIVES have spoken to over 100 people in a bid to seek any information following the murder of a Birmingham father.
Police returned to Coventry's Sewell Highway last night a week after Ali Jawaid, a father-of-two was viciously attacked and hit over the head with a metal bar outside a mobile phone shop on Wednesday November 9.
Thieves made off with his delivery van as the father of two lay dying on the street.
The 43-year-old, who had been under an induced coma since the attack, died yesterday afternoon after his condition deteriorated rapidly.
Two men, both aged 25, were arrested in connection with the murder; both were subsequently bailed pending further enquiries.
Three men, aged 22, 24 and 32 were arrested in connection with the robbery. The 22-year-old and the 24-year-old have been bailed pending further enquiries and the 32-year-old was released without charge.
Detective Chief Inspector Matt Markham, leading the investigation said Mr Jawaid's distraught family had kept a vigil at his bedside since the attack.
"Last night's anniversary visit was very useful and has led to a number of lines of enquiry which are currently being investigated," he said.
"Mr Jawaid was a married father of two young children who was going about his business when he was viciously attacked by a group of men, all for just a few mobile phones.
"His family have suffered terribly over the last week, staying at his bedside praying he would pull through, and sadly he passed away on Tuesday.
"I'd appeal to anyone who has any information about this tragic incident to contact us immediately. I'm sure there are people out there who will be able to help us and I'd urge them to get in touch."
A post-mortem was carried out yesterday but the precise cause of death has not yet been confirmed.
Examinations continue to be carried out on Mr Jawaid's red Toyota Hiace van which was spotted driving away along Torcross Avenue moments after he was attacked and was later found burnt out in Warwickshire.
Anyone who witnessed what happened or who has any information about the incident is asked to call 0345 113 5000 or the independent charity Crimestoppers anonymously on 0800 555 111.