 Birmingham Student saves life of schoolgirl on last day of first aid training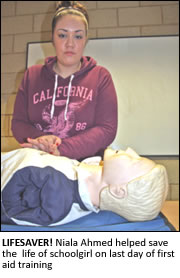 A BIRMINGHAM student, who was on her way into College to complete the last day of her first aid course, was suddenly forced to put her training into practice by saving the life of a schoolgirl!
Niala Ahmed was travelling into Solihull College by bus in Bordesley Green when she looked out of the window and noticed a girl standing outside, choking and turning blue.
Despite feeling apprehensive and unsure that she would be able to help, Niala then saw the girl collapse on the floor and realised she had to assist.
"I was really nervous and worried that I would do something wrong, but when I saw the girl turning bright blue and unable to breathe I just tried to remember everything I had learned at College," 18-year-old Niala said.  
"I tilted her head back and removed a gobstopper from her mouth, but she was still not breathing. I then gave her CPR for about three minutes until the ambulance arrived."

When the ambulance staff arrived they thanked Niala and told her how she had helped save the girl's life. If she had been left any longer her heart would have gone into VF (ventricular fibrillation) making it harder to keep the girl alive.

Niala adds: "I didn't manage to find out the girl's name or what school she is at, as I was more worried about getting back on the bus and arriving at College on time! But I hope she is fully recovered now and feeling better."

Niala is currently studying the BTEC National Award in Air Cabin Crew and Aviation Operations, which the three-day first aid course is a compulsory part of.

Her course tutor, Ian Boulton, said: "I can't tell you enough how proud I am of Niala. She is an outstanding student who acted calmly and confidently in a very difficult situation. She is a real credit to the College."