 Membership or support of group will be criminal offence, says Theresa May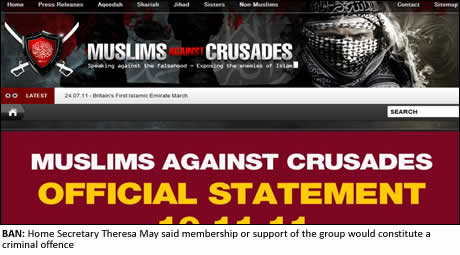 THE organisation Muslims Against Crusades will be banned from operating in the UK, the Home Secretary has announced.
The order will come into effect from midnight, Theresa May revealed.
She said: "I have today laid an Order which will proscribe Muslims Against Crusades from midnight tonight. This means being a member of or supporting the organisation will be a criminal offence. 
"I am satisfied Muslims Against Crusades is simply another name for an organisation already proscribed under a number of names including Al Ghurabaa, The Saved Sect, Al Muhajiroun and Islam4UK. The organisation was proscribed in 2006 for glorifying terrorism and we are clear it should not be able to continue these activities by simply changing its name."
The group, who had been planning a Hell for Heroes protest on Armistice Day, hit the headlines after some of its member's burnt poppies in a protest last year on Armistice Day.
In a statement on its website the group confirmed it would "not be functioning as of tonight."
While the statement also confirmed the Hell for Heroes protest had been cancelled, it added the ban was a "great victory for Islam and Muslims".
"The intended banning of Muslims Against Crusades by Home Secretary Theresa May is a great victory for Islam and Muslims and highlights the sheer hatred the British government has towards sincere Muslims who wish to peacefully speak out against policies that are (from every angle) anti-Islam and anti-Muslim," the statement said.
"We would like to make it clear that the call for Islam will never be silenced by any ban or proscription."