 Gurnam Singh jailed for two years and nine months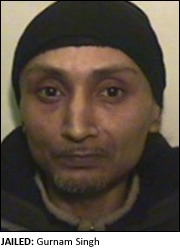 A PROLIFIC burglar is behind bars – and he can thank his fingerprints for putting him there!
Detectives were able to place Gurnam Singh at the scene of one burglary in Manchester after he left his fingerprints all over a copy of a local newspaper.
Singh, who was linked to two other burglaries through witness descriptions, pleaded guilty and was jailed for two years and nine months at Minshull Street Crown Court. The court heard Singh, 39, first struck in July last year when he knocked on the door of a house on Ayres Road, Old Trafford.

The house was in the process of being renovated and a friend of the householder, who was helping out, answered the door.

Singh asked him if they needed the 'floors doing' and he was let into the house. He went upstairs and started to pace out the floor size with his feet while jotting down measurements on a copy of the Manchester Evening News.

He finished 'measuring up' went downstairs, then claimed he'd left his pen upstairs. He went back to the bedroom, stole a wallet containing £180 cash, and left the house.
A week later he broke into a shared house on Darley Street, Old Trafford, stealing a man's jacket, £30 cash and house keys.

And in April this year Singh was at in again, breaking into the house of a mother of two and stealing her handbag and mobile phone.  
From the description given officers identified Singh as a suspect and, after his arrest, officers matched prints from the discarded newspaper with those of Singh.

Sergeant Phil Seeley, of Trafford Burglary Unit, said: "Singh used various methods to break or talk his way in to people's homes, but the net result was always the same – he stole their personal belongings without a thought for the victim.

"His methods were haphazard and he was stupid enough to leave his fingerprints, not to mention his handwriting, all over a copy of the local newspaper.

"I hope his sentence goes some way to reassure his victims that we will do what we can to take people like him off the streets."