 Asian men sought over incident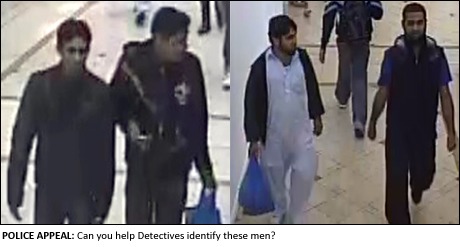 POLICE have released the image of a number of people they wish to speak following an incident of indecency in Leicester.
The incident happened at the Clock Tower in Leicester city centre between 3.30pm and 4.30pm on Tuesday September 20.
A 16-year-old girl was standing at the clock tower when she was approached by three Asian men. One of the men stood speaking to the girl, made rude comments and then touched her inappropriately.
The man was interrupted when the girl spotted two friends and shouted to them.
Shortly after the group of men walked away towards the Haymarket Shopping Centre, where they were followed by the young girl's two friends and an altercation took place.
No-one was injured during the two incidents.
The suspect is described as being Asian, of slim build, between 20 and 30-years-old with short black, spiky hair. He was about 5'9" tall, had a slight beard and was wearing a black leather jacket.
Officers have been carrying out enquiries since the incident happened and hope that the release of the image will encourage witnesses to come forward.
PC Pete Daniels, the investigating officer, said: "The young girl was left feeling extremely distressed and I would urge anyone with information about the man responsible to call us immediately.
"Since the incident happened we have been speaking to the victim and some witnesses, trying find out exactly what happened and get as much information as possible about the man responsible.
"We are aware that there were a lot of people in the area at the time and I would like to appeal to those people to come forward, including those in the image we have released.
"The people in the images were in the clock tower area at the time of the incident. If you know the people in the image, if you were there when the incident happened or if you recognise the suspect from our description then please get in touch. Some time may have passed since the incident happened but it isn't too late to help."
Anyone with any information is asked to contact PC 219 Peter Daniels by dialing 101.  Follow the instructions to leave a message for a police officer, and when prompted key in the officer's identification number 0219.  Alternatively, you may contact Crimestoppers, which is free* and anonymous, on 0800 555 111.