 Visit part of BBC's Children in Need programming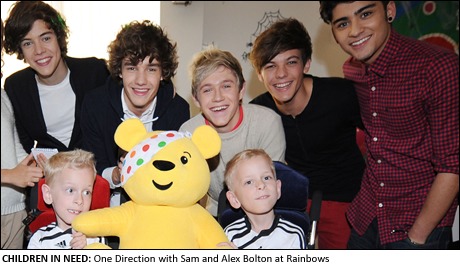 POPSTAR Zayn Malik put a smile on the faces of disabled youngsters after paying a visit to the Rainbows children hospice.
The Bradford-born singer joined One Direction band members for the special trip as part of the BBC's Children in Need programming.
One Direction's visit to the Loughborough children's hospice, who are supported by BBC Children in Need, was filmed as part of the charity's appearance on BBC1's The One Show aired on the 3rd November.
"The work Children in Need do with projects like Rainbows Hospice is so important to these children and their families," the band said.
"We have grown up with Children in Need and this was the perfect chance for us to show our support. With two weeks to go we hope the public will dig deep and give generously"
Spokesman for Rainbows, Scott Lea said: "Having a visit from such a famous band was absolutely fantastic. And keeping it a secret was probably the hardest thing we've done in a long time! All the boys were brilliant; they really got stuck in with meeting everyone, having their photos taken and signing autographs.
"Everyone who came to see them had a huge smile and took away a lasting and happy memory. It really did mean the world to us."