 Police concern for Srinivas Kadium who has been missing for almost a month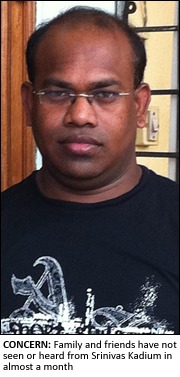 POLICE in Birmingham are stepping up their search for a man missing for almost a month.
Srinivas Kadium was last seen at his home on Wenlock Road, Perry Barr at around 9.45pm on Saturday 8 October when his housemate wished him good night.
He is known to have gone to bed but was found to be missing the following morning and police were later informed of his disappearance.
Despite wide-ranging enquires, police have been unable to trace him.
Mr Kadium arrived in the UK in 2004 and graduated from the University of Wolverhampton in 2008 having studied a masters degree in business administration. In 2009, the devout Hindu who worshiped at a temple in Tividale, moved to Oxford where he worked for almost one year before returning to the West Midlands.
At the time of his disappearance, it is believed that he was depressed, possibly as a result of not being able to find work in computing. He had only just moved to Perry Barr having relocated from Wolverhampton and may also have felt isolated.
Mr Kadium does not have any family in the UK and left home without his passport, wallet, bus pass or phone. He has not been seen since and has not made any attempt to contact his friends or family in India leaving officers gravely concerned for his welfare.
Extensive trawls of CCTV footage have also failed to provide any clues as to where he may be.
Police are now urging anyone who may have seen him to contact them as a matter of urgency.
Detective Inspector Pete Dunn is leading the hunt for the missing man. He said: "This is a very unusual case in that since his disappearance, there have been no confirmed sightings of Mr Kadium and he has not contacted any friends or relatives.
"We are aware that had been a little down of late and we are concerned that he had left home without taking his glasses and other personal items which he would usually carry with him.
"We urge anyone who recognises him, or knows of his whereabouts, to contact us so we can confirm that he is safe and well."
Srinivas Kadium is described as an Indian man, 5ft 5ins tall, of medium build, with a bald head and thinning black hair. He has a dark complexion, grey stubble and wears glasses.
He was last seen wearing light grey Bench jogging bottoms, white T-shirt, a light green rain coat with a hood and brown slippers. He sometimes walks with a limp after suffering a leg injury.
This weekend marks the one month anniversary of his disappearance and local officers will be out in force conducting further house-to-house enquires and searching nearby waste ground.
Anyone with information is urged to call Birmingham Central police station on 0345 113 5000.