 Willenhall welcomes Sergeant Mo Shaid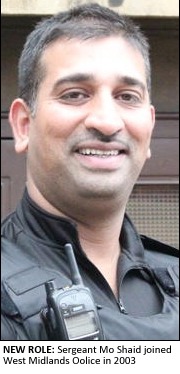 POLICE in Willenhall have seen a new sergeant join the 13 strong team which covers Spring bank, Willenhall town centre and Little London.
Sergeant Mo Shaid joined west midlands police in 2003 after working in the private sector for a number of years.
He has a vast experience in neighbourhood policing and has worked in areas such as Winson Green and Handsworth in Birmingham.
He has his sights set firmly on getting to know the people of Willenhall and delivering a policing service to suit their needs.
Sergeant Mo Shaid, based at Willenhall police station, said: "I am looking forward to meeting the local people, businesses and large communities that live, work and visit Willenhall.
"I relish the new challenges that come before me and want people to contact me to let me know what they feel we should be tackling to make their community and quality of life better.
"My team will be visiting every household in the Willenhall area so that they know who their local police are and can speak to us about any concerns they may have."