 Maninder Kaur Dhallu raises more than £1,600 for Cancer Research UK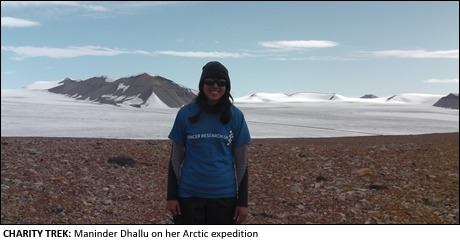 A WALSALL teenager has made sure Cancer sufferers aren't being left out in the cold after raising money on an Artic charity trek.
Maninder Kaur Dhallu has raised more than £1,600 to aid the vital work of Cancer Research UK by taking part in a sponsored Arctic Expedition in August 2011.
The intrepid 17 year old took part in an Arctic expedition to Svalbard with the organisation BSES (British Schools Exploring Society). She also decided to use this once-in-a-lifetime experience to raise vital sponsorship and funds to help the work of Cancer Research UK.
Maninder said: "Many families are affected by cancer and after having lost some of my close relatives to cancer, I wanted to raise money for Cancer Research UK so that they can continue their outstanding work."
As well as raising sponsorship, Maninder also organised various fundraising events at her school, King Edward VI Handsworth School for Girls in Birmingham, and has received a lot of support from fellow students and teachers.
She has also received an immense amount of support from her work colleagues at National Express who have made a tremendous contribution to the total money raised.
Miranda Williams Cancer Research UK's area volunteer manager for Walsall said: "Maninder is a real inspiration and we can't thank her enough for choosing to support Cancer Research UK whilst participating in this Arctic Expedition. 
"Cancer Research UK has made enormous progress in the fight against cancer. However, we have only been able to do this thanks to the dedication and commitment of our volunteers and supporters without whom we would not be able to fund outstanding scientists, doctors and nurses."
For further information about the work of Cancer Research UK or to organise your own fundraising event, please visit
www.cancerresearchuk.org
or call  08701 60 20 40