 Stars of stage, screen and sport stand up for charity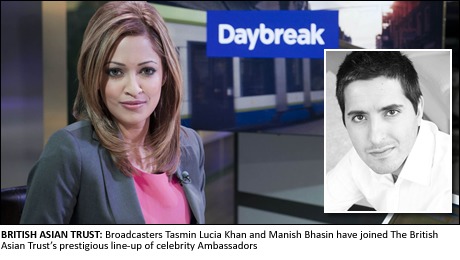 FOUR British Asian stars of stage, screen and sport have joined The British Asian Trust's prestigious line-up of celebrity Ambassadors.
Broadcasters Ritula Shah, Tasmin Lucia Khan and Manish Bhasin join comedienne Meera Syal, as the Trust's newest Ambassadors.
This ultra-talented quartet brings to 33 the number of celebrity Ambassadors supporting the vital work of the Trust including Sanjeev Bhaskar OBE, James Caan, Nina Wadia, Rahul Dravid and Rishi Rich.
The British Asian Trust was founded in 2007 by a group of Asian business leaders at the suggestion of HRH The Prince of Wales. The charity provides access to education, health care and livelihood opportunities that lift people and communities out of poverty in South Asia and the UK.
"We are very proud of our 33 Ambassadors—well-known British Asian celebrities, sports persons and leaders—who represent our work and help raise awareness about the projects we support," said Manoj Badale, Chairman of The British Asian Trust. "They play a vital role in promoting the Trust."
'Daybreak' presenter Tasmin Lucia Khan said: "I believe in helping people realise their full potential through education and skills training. I am passionate about breaking down the barriers that prevent many children, especially girls, getting an education to lift themselves out of poverty. Through the Trust, I can help to achieve lasting change in these areas and hopefully lots more."
Sports journalist Manish Bhasin plans to help the Trust to maximise sport to transform poor peoples' lives.
"The Trust has an amazing ability to score support for disadvantaged communities in South Asia through cricket," he said.
A frequent voice on BBC Radio 4, Ritula Shah said: "I am delighted to be involved with an organisation like The British Asia Trust which is doing such innovative work in the rapidly changing region of South Asia."
Meera Syal commended the Trust's work to build self-sufficiency to combat poverty. "I am pleased to lend my name and my support to The British Asian Trust and its work with the most vulnerable people in South Asia and the UK," she said.