 Curry Life Magazine honours Britain's best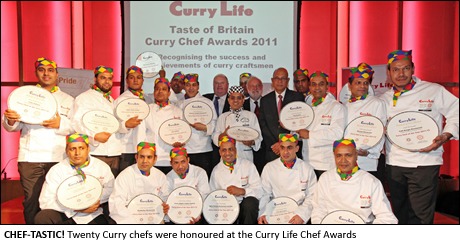 A POPULAR Midlands Curry chef has been honoured at the Curry Life Chef Awards.
Shahidur Rahman from Raj Spice in Warley Regis was one of 20 curry chefs honoured at a glittering ceremony at The Cumberland Hotel, Marble Arch, Central London.
The Curry Life Magazine, which is widely regarded as the authoritative voice for thousands of Indian Restaurants in the UK, has been recognising excellence in the industry since 2009. The magazine also earned its fame by organising British Curry Festival in different countries.
Over the last ten years, the Taste Britain Curry Festival has helped to raise the profile for Curry Chefs and the British Curry Houses globally.
Organisers of the Awards said they wanted to showcase and pay tribute to the country's leading curry restaurants and chefs.
Syed Ahmed, former star of the BBC show The Apprentice, presented the awards which were attended by over 300 guests.
The Chief Guest at the glittering night, Eric Pickles MP, Secretary of State for Communities and Local Government spoke about the importance of curry in British life.
"Curry may not have been born in Britain, but it has found a welcome home here," he said. "With over 12,000 establishments turning over £4.3 billion each year it's not difficult to see that British curry is a great success story. This Government wants to support the industry's growth and development.
"The Curry Life Awards are a chance to recognise not only the talent, creativity and hard work of the nation's curry chefs but also their huge economic contribution to British life. I congratulate all the winners and look forward to the British curry industry going from strength to strength."
The Special Recognition Awards were also given to an International Curry Chef Utpal Mondal from India, Restaurateur Late Nazir Ud Din Ahmed, who opened Manchester's first Curry House in 1938 and Bangladesh born, Mime Artist who worked with Marcel Marceau and recently achieved highest cultural honour from France for his achievement, Partha Majumder.
Syed Belal Ahmed, Editor of Curry Life Magazine and founder of Taste of Britain Curry Festival, said: "The awards were a runaway success. These awards highlight the special achievement of a select band of chefs who have made their culinary mark on the Indian restaurant scene in the UK.
"The British Curry has its own identity and we are now influencing Curry Restaurants globally including India, where Curry originates from," he added.