 Marathon running Ilford pensioner sets new world record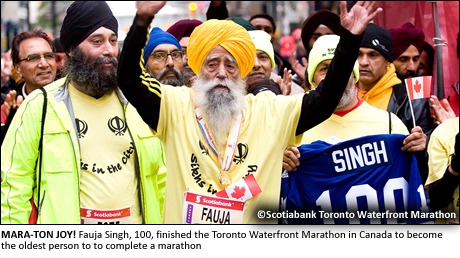 BRITISH pensioner Fauja Singh, 100, has become the oldest person to complete a marathon – earning him another spot in the Guinness World Records!
Mr Singh, from Ilford, accomplished the fete at the Toronto Waterfront Marathon, finishing the in eight hours, 25 minutes and 16 seconds.
Crossing the finishing line he was met by hundreds of supporters who cheered their new marathon world record holder.
At 100, Mr Singh has now become the world's oldest marathon runner, adding his latest achievement to another marathon world record in the over-90's category after finishing the 2003 Toronto marathon.