 Police 'concerned' for Srinivas Kadium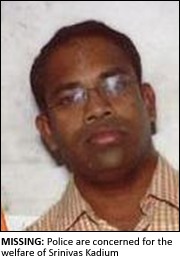 POLICE are appealing for help in tracing a 36-year-old man who has been missing from home for over a week.
Srinivas Kadium was last seen at his home on Wenlock Avenue, Perry Barr on the evening of Friday 8 October. He is known to have gone to bed that night but was found to be missing the following morning, and police were later informed of his disappearance.
The 36-year-old is known to have friends in the Wolverhampton area, as well as having links to Birmingham.
Police are now urging anyone who knows of his whereabouts to come forward as they are growing increasingly concerned for his welfare.
Sergeant Andy Holder, from Central Birmingham police station, said: "We are aware that Mr Kadium had been a little down of late, and we are concerned that he had left home without taking his glasses and other personal items which he would usually carry with him.
"We urge anyone who recognises him, or knows of his whereabouts, to contact us so we can confirm that he is safe and well."
He is described as an Indian man, 5ft 5in tall, of medium build, with a bald head and thinning black hair, he has a dark complexion, grey stubble and wears glasses. He was last seen wearing light grey Bench jogging bottoms, white T-shirt, a light green rain coat with a hood, and brown slippers. He sometimes walks with a limp after suffering a leg injury.
Anyone with information is urged to call Birmingham Central police station on 0345 113 5000.