 Learning and Achievement celebrated at City Bangladeshi Centre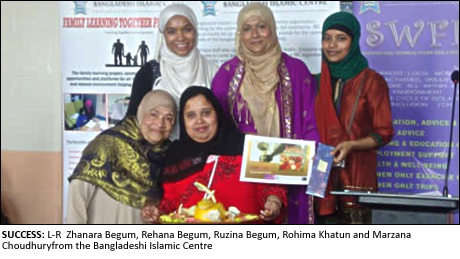 SMETHWICK'S Bangladeshi Islamic Centre (BIC) held an Eid Party to celebrate local learning and achievement. 
Over 300 people attended the event held at the North Smethwick Development Trust.
Local artists provided exciting creative workshops for all the family, including flower making from bread and glass painting. Henna artists, beauticians and masseuses treated the ladies whilst the children were treated to a bouncing castle, face painting and balloon modelling. 
Free lunches were provided for local people and an array of stalls to purchase clothes, accessories and confectionary were available outdoors.
Councillor Pam Randawa attended the event and judged a fruit carving competition on the day. All entrants to the competition had successfully completed the Fruit carving course run at BIC.
Huge numbers come through the doors of the centre – and even more so following the new courses in fruit carving.
Women were taught by a professional tutor on how to create innovative designs with various fruits and vegetables such as sweet potatoes, water melons, cucumbers and carrots. The aim of the course was to teach new skills and educate families about healthy eating.
Centre manager, Abdul Subhan believes the course is ideal in empowering local women to get more active in their community.
 "As a local community activist I can clearly observe the overwhelming happiness and pride local women are engaging in at the moment," he said.
"It is well documented that most of these women are faced with multiple deprivation and this programme has empowered them to become active and engaged citizens of the community.
"One grandmother told me, 'I hired professionals at my children's wedding to prepare the wedding thaal (decorative food platter) for the bride and groom.
"However, at my grandchildren's wedding they will be eating a thaal made by their grandmother'. I feel proud that BIC played a part in this grandmother's success story," he added.