 IT Consultant Jamil Hussain ready for gruelling mountain trek for Kids Charity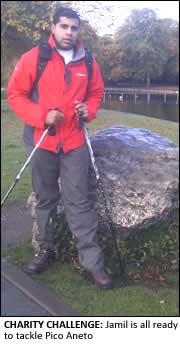 AN adventurous IT consultant from Birmingham is gearing up for the hike of his life – up the highest mountain in the Pyrenees!
Jamil Hussain will take on the two-day challenge this weekend in aid of the Kids Charity.
The 34-year-old, who has raised over £1,000 so far, was chosen for the fundraising trek by his employer Logica after writing a passionate application on how he wanted to help disadvantaged children.
And for the father-of-three, knowing he will be supporting the work of the Kids Charity will act as an inspiration as he tackles treacherous conditions including ice and snow during the climb up Pico Aneto, in the Pyrenees.
"I guess the idea of helping children really compelled me to take up this challenge, and doing this for the Kids Charity really spurred me on that little more," he told The Asian Today.
"I myself have a little toddler and occasionally hear him cry and think there are many kids out there who often cry and they go unheard or worst still are in much unfortunate positions through no fault of their own. I'm always working or doing things for myself, and at the start of this year I thought I'd like to do something for someone less fortunate than myself and what better way to do this than doing something that I enjoy."
Jamil admits that while the hike will be like nothing he's ever tackled before, the sheer scale of the challenge and the kids who will benefit from his sponsorship money is driving him on.
"I am excited yet nervous at what lies ahead and what the conditions are going to be," he says.
"I have done a fair bit of preparation but you can never really do enough, hopefully my adrenalin and ambition will carry me up!"
And talking about preparation, Jamil's been turning heads after coming up with a novel way of getting his body used to load he'll have to carry up Pico Aneto.
He reveals: "I have been doing a fair bit of going to the gym and walking around with a huge rucksack full of bricks and water to try and recreate the equipment that we will be carrying! I've often been stopped locally and questioned as to why I am carrying such a big rucksack!"
At his home in Moseley, Jamil's family are backing their charity champ all the way!
"Initially my parents thought I was just shy of being mad," he reveals.
"I guess that comes down to the fact that not many people come home to tell their parents they're going to be climbing a mountain over 11000 feet! Being Asian doesn't really help either as I do feel not enough people from the community put themselves forward for such cases. Also hiking or mountain climbing is not as fashionable as say cricket, boxing or football! But my family are now 100% behind me and have even agreed to give me a grand send off!"
With his work colleagues and family driving him on, there really ain't no mountain high enough for Jamil this weekend!
If you would like to donate to Jamil's cause
CLICK HERE
to log onto his Just Giving Fundraising page