 Reward offered in hunt for Sukhdip Singh Chhina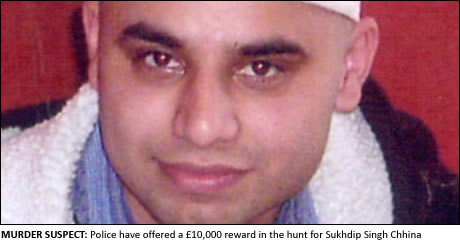 POLICE hunting a suspect in a 2005 murder case have offered a reward of up to £10,000 for information on his whereabouts.
Sukhdip Singh Chhina, 29 is wanted in connection with the murder of Falwinder Singh Badesha who was found stabbed to death in a house in Belvedere, south London in September 2005.
Chhina lived in the same house as Mr Badesha at the time of the murder and police have been looking for him for the past six years.
Police say Chhina could have left the country but know he has contacts in Gravesend, Kent, Southall, West Midlands, Ilford and south-east London.
Detective Inspector Graeme Gwyn, from Homicide and Serious Crime Command (HSCC) said: "Someone knows exactly where Chhina is and we would very much like to hear from them. Any information will be treated in the strictest confidence but we believe that he holds vital information in relation to this investigation, or may be responsible for the murder, and we urgently wish to speak with him.
"He has been carrying this around on his conscience for six years and for the sake of his friend's family, I would urge him to come forward and speak with us."
Detectives believe a fight broke out between Mr Badesha and another resident at the house on Holmhurst Road about keeping the house tidy. This led to Mr Badesha being fatally stabbed.
At the time, there were four young men living at the address, all of them visiting from Amritsar City, in the state of Punjab in India, and working locally at a factory.

Officers know that Chhina was present during the fight and left the address before the police arrived.

Chhina is described 5ft 9ins tall, with short dark hair. When he left the house on the day of the murder, he had a cut to his forehead. He was wearing brown shoes, dark trousers and a coloured checked shirt. He may also have been carrying a plastic bag.
Two men have already been convicted in connection with Mr Badesha's murder.
Balwinder Singh Upple, 51, and Kashmiro Upple, 49, were both convicted of attempting to pervert the course of justice in 2006.
Kashmiro Upple was convicted of two counts of attempting to pervert the course of justice and sentenced to 15 months imprisonment suspended for two years.
Balwinder Upple was convicted of one count of attempting to pervert the course of justice and sentenced to six months imprisonment suspended for two years.
Anybody with information on the whereabouts of Sukhdip Singh Chhina can call 020 8721 4805, or Crimestoppers on 0800 555 111 to remain anonymous.