 Public vote Tabinda Shah of Bindi's and Tiaras top make-up artist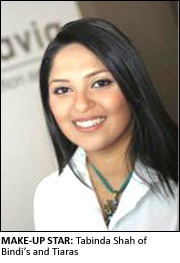 A MAKE-UP artist has scooped a top award for her stunning Asian bridal looks.
Tabinda Shah was awarded the prestigious Your Dream Shaadi's 'Top Make Up Artist' in a competition that stretched nationwide.
She has been creating stunning looks for brides for many years now, launching her company Bindi's and Tiaras in 2010.
She revealed winning the award was more special as the winner was voted by the public.
She said: "We are absolutely delighted to have won this award with Your Dream Shaadi – UK's Premier Online Asian Wedding Magazine, especially as it is voted by the public.
"So many brides want to look their best on their wedding day but still want to look like themselves. We have created a professional service which allows them to radiate their own individual style on their wedding day and it's great to have recognition for our great work. We look forward to working with more and more bridal parties on their special day."
Ex-London College of Fashion, trained at the studios of Charles Fox and a
MAC makeup artist, Tabinda launched Bindi's and Tiaras in 2010 at the Asian Wedding Exhibition.
Since then she has built a reputable business with a team of makeup artists and hairstylists who specialise in full bridal parties for Asian women.
Rahul from Your Dream Shaadi – UK's Premier Online Asian Wedding Magazine said "Tabinda and her team at Bindis and Tiaras were a natural choice for winning this award. They offer a unique balance of making a bride feel really special whilst ensuring they still feel themselves. It speaks volumes that out of the thousands of votes we had in the competition the public have voted her as their top makeup artist."