 Acting Graduate lands role in medical drama Casualty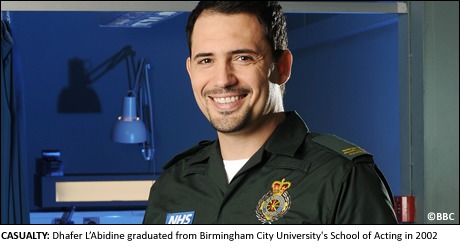 A GRADUATE from Birmingham City University's School of Acting, has landed a major role in the BBC's Saturday night drama.
Dhafer L'Abidine graduated from the University in 2002 and since then has starred in a string of high profile roles including parts in Sex and the City 2, Spooks, Wallander and the upcoming Sky drama Strike Back.
Dhafer will be starring in the latest series of Casualty as paramedic Omar who, because of cultural differences, brings manners and ways of doing things that are different from the way people are used to. 
Speaking about his new role, Tunisian-born Dhafer said: "I'm foreign myself and I find it interesting that when you arrive in a new country you have your experiences of your own country but everything here works differently – work, relationships, friends – and you have to try to adapt and change. Or maybe you can't change. And that's one of the reasons I thought Omar would be interesting to play".
Dhafer has been researching his role by asking paramedics a lot of questions and says he thinks he would be good in an emergency now… "at least as long as the cameras are around and someone says 'cut'!"
Dhafer, who was previously a professional footballer in Tunisia, first arrived in Britain to learn English in 1999 and admits he could never have imagined how far his career would develop when he came to Birmingham to study acting.
 "I've been so lucky with my career. It's not something you can plan I don't think.  I'm lucky to have played such a wide range of characters and different nationalities. And now it's lovely to be playing a paramedic. I'm actually helping people rather than terrorising them for a change!"
Casualty is on BBC One, Saturdays, at 9pm.