 High value Asian gold pieces may have been stolen in burglary, say police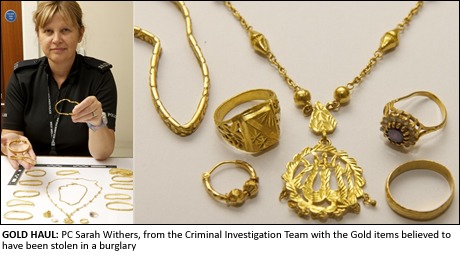 POLICE in Birmingham are hoping to reunite expensive gold jewellery with its rightful owner following a recent incident in the Jewellery Quarter.

On 23 June, police officers were patrolling in the Jewellery Quarter when they came across two men acting suspiciously outside a jewellery store.

Upon seeing the officer's approach, both men began running from the scene down Warstone Lane. They were arrested moments later following a brief foot chase.

During the foot chase, the two men were seen to throw a plastic bag onto the roof of a nearby property.

Upon retrieving the bag a short while later, a large quantity of gold jewellery was discovered.

The jewellery, consisting of 19 individual items, includes gold chains, rings and numerous bracelets.

All of the pieces are described as being high quality Asian gold. The design and style of each piece suggests that they may date back at least 30 years.

Officers believe the jewellery may have been stolen during a house burglary and are now looking to identify the rightful owners.

The two men were arrested on suspicion of handling stolen goods and are currently on police bail.

The suspects hail from Leicestershire and so officers have issued the appeal across both area's in the hope of finding the rightful owner.

PC Sarah Withers, from the Criminal Investigation Team, said: "We are determined to reunite this vast quantity of jewellery with its rightful owner.

"Burglary is a distressing form of crime that can really affect its victims. This jewellery may have been a family heirloom or a wedding gift that really meant a lot to its original owner.

"We hope that the owner will contact us and explain how the items were stolen. As well as getting their property back, they may also help us convict those responsible for its theft."

Anyone who recognises the jewellery should call PC Sarah Withers or at Birmingham Central police station on 0345 113 5000.

Callers should have evidence that the items belong to them. This should include a crime number and could also possibly include photographs and descriptions of the items.