 Families of Haroon, Shazad and Abdul 'honoured' as gesture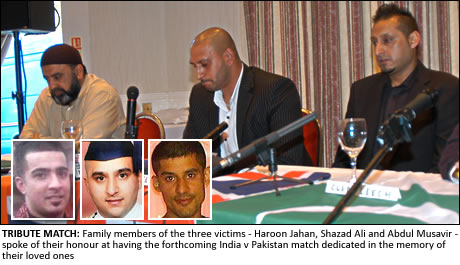 A HISTORIC football match between old foes India and Pakistan is to be dedicated in the honour of three Birmingham men who died during riots in the city.
Rivals India and Pakistan will meet in a special football match in Derby in what has been billed as an event to unite communities.
The match will honour Haroon Jahan, 21, and brothers Shazad Ali, 30, and Abdul Musavir, 31, who died in the early hours of August 10 after they were struck by a car during riots in the Winson Green area of Birmingham.
The men were laid to rest last week in the city following an open-air prayer service which was attended by over 20,000 people.
The match, which had been originally scheduled to take place at Derby FC's Pride Park on 3 September, has been postponed and will take place after a 40 day mourning period observed by the families of Haroon, Shazad and Abdul.
TouchSky Sports, organisers of the Indian Pakistan football match, said they had met with Tariq Jahan, father of Haroon, and Abdul Qudoos, brother of Shazad and Abdul, and were overwhelmed by the "love, affection and support" showed by the families to the match. Proceeds from the match will also be donated to the families.
At a press conference representatives from both families said they were "honoured" the match would be dedicated to their loved ones.
Speaking on behalf of Shazad and Abdul's family, Zahid Malik said: "Two nations, India and Pakistan, as a symbol of goodwill are prepared to put aside their differences for peace in the form of an event that brings excitement and joy.
"If they can change, I believe people in Winson Green can change, Birmingham can change, this nation can change, we can all change. Change embraces peace and unity and we can stand together as one nation and a beacon to the rest of the world. These are the words of Shazad and Abdul's father."
He added: "The family are moved by TouchSky Sports kindness in dedicating this event in the memory of the two brothers and Haroon and the family wholeheartedly give their blessing and back such an important ground breaking event."
Remo Rehman, a close friend of the Jahan family, echoed the same sentiments.
"It's a great idea and we fully support this fixture," he said. "It's great that India and Pakistan are going to play what is our national sport in this country."
TouchSky Director Peter Virdee added: "The football match has the potential to provide a very public show of support from the whole community which stood together during the riots and the subsequent sad loss of these three lives."
"The lives of these three heroes can never be replaced however measures need to be put in place for the prevention of future incidents and to bridge the divide within the community. In recognition of this objective and following kind agreement from Tariq Jahan and other family members we wish to donate all profits from the match to set-up a legacy programme dedicated to the memory of Haroon Jahan, Abdul Musavir and Shahzad Ali."
TouchSky Sports said details of a new rearranged date for the India Pakistan match will be announced shortly.