 Victim left 'shaken' by incident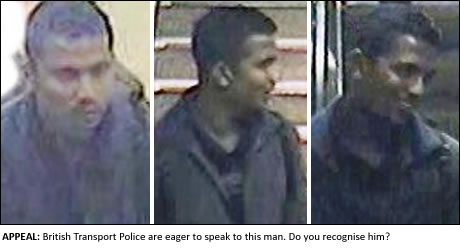 BRITISH Transport Police (BTP) officers investigating a sexual offence on board a train in Birmingham are appealing for the public's help to identify a man they would like to speak to about the incident.
Officers have today released CCTV images of a man they believe will have information which assist their investigation into the incident which took place on Friday 18 March 2011.
Detective Constable Anne Joyner, of BTP, said the 15-year-old female victim was travelling alone from Telford to Longbridge, Birmingham.
"She first noticed an Asian man when he boarded the train at Wolverhampton rail station," DC Joyner said.
"The victim changed trains at Birmingham New Street station and boarded a service to Longbridge. The male she had seen on the first train also boarded the Longbridge train and sat down next to her.
"He then began attempting to talk to her before exposing himself, taking hold of her hand and attempting to make her touch his genitals.
"The victim told him to leave her alone and as the train approached Longbridge station, she got up to leave the train. The male also got off at Longbridge but fled from the station after seeing that the victim was being met on the platform by a friend."
DC Joyner added: "Although the victim was not injured, she was understandably left very shaken by the ordeal.
"We have followed a number of extensive lines of enquiry since the incident and I am now releasing these CCTV images in the hope that someone will recognise the man and come forward with his details.
"If you recognise the man in these photographs, or know of his current whereabouts, I would urge you to please contact police immediately."
Anyone with information should contact British Transport Police on 0800 40 50 40 quoting reference B10/WWA of 24/08/2011. Alternatively, you can call the independent charity Crimestoppers on 0800 555 111.