 Shots fired at Police helicopter during recent riots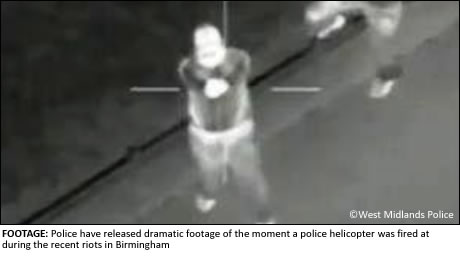 A WEST Midlands Police officer has spoken about the moment he and his colleagues were shot at during the recent disorder in Birmingham.
It comes after the force released dramatic CCTV footage over the weekend showing shots being fired at officers, as well as the police helicopter, during the disorder two weeks ago.
The footage shows a group of 30 to 40 young men in Newtown late on Tuesday 9 August.
The group, all masked and all wearing black clothing, caused extensive damage at the Barton Arms pub, Newtown and the surrounding area. As police attended, petrol bombs were thrown at a marked police car, at around 11.50pm.
Eleven shots were fired at officers and also at the force helicopter and a major investigation into arson with intent to endanger life and attempted murder was immediately launched.
One of the officers, who cannot be named for operational reasons, said: "It definitely felt like an ambush and as we moved forward it was only seconds before we heard a gunshot.
"We'd heard that sound before and we know straight away that there was at least one gun in the crowd.
"Once that sound of gunshot had been heard we stopped and took cover behind our vehicles.
"In the back of our mind there is the thought that someone is prepared to take a shot at us or anyone. We do what we are trained to do, it's our job, but that thought is always there.
"In the aftermath, you do have that moment of quiet contemplation.
"Had we done just one thing differently it might have been a different story. 11 shots were fired and that could have been 11 bobbies that were lost that night.
"Each of those bullets could have killed someone. It doesn't bear thinking about.
"Only now have we had the chance to see the comments from members of the public on Facebook, Twitter and in the media. It's made such a difference. The support is brilliant and has really boosted morale.
"I love my job and I genuinely think that the last week has reinforced just how proud I am to be a police officer."
Chief Constable Chris Sims said: "I am only thankful that this is not a murder inquiry – this was not only police officers' lives that were put at risk, but also members of the public who may have been passing by.
"Public reaction to this operation has been overwhelming so far and we thank people for their continued support. However, I must ask once again that anyone who can help our investigation to come forward."
Anyone able to assist the police inquiry is urged to contact the Force Criminal Investigation department at West Midlands Police on 0345 113 5000 or speak to the independent charity Crimestoppers anonymously on 0800 555 111.
VIEW THE FOOTAGE HERE