 Stage production Kathakbox heads to The Public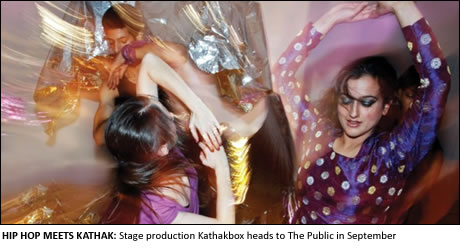 KATHAKBOX, an innovative new stage production from one of the UK's most exciting and dynamic dance companies, heads to The Public on Friday 16 September.
Sonia Sabri Company, recently nominated for a London Dance Award, bring together the Indian classical dance form, Kathak, and the universal culture of Hip Hop, to celebrate the unique, diverse energy of modern Britain. 
Drawing on urban trends and global roots, throughout the performance, the exceptionally talented team of dancers and musicians create urban Kathak through a collaboration of Street, Contemporary and Indian dance, beatboxing, spoken word and tabla vox rhythms.  As the audience become immersed in the performance, individual stories are told through rhythm, movement, poetry and rap in English, Hindi, Punjabi and Urdu. 

Described by Londondance.com as "uplifting and highly enjoyable", the bold, heart-pounding production from the Birmingham based company features artistic director Sonia Sabri performing alongside three dancers including b-boy Nathan Geering, internationally recognised tabla maestro Sarvar Sabri, acclaimed spoken word artist and vocalist Marcina Arnold, and beatboxer Shan Bansil.
Hip Hop guru Jonzi D injects attitude as the production's artistic consultant and the renowned poet Zena Edwards weaves her spell of poetry as guest composer.
Linda Saunders, Managing Director of The Public said: "Sonia Sabri Company are one of the most innovative dance companies in the UK so we are delighted that they will be performing at The Public. Kathakbox has received exceptional reviews across the county so visitors can expect to be entertained with an inspirational and exciting performance."
Kathakbox takes place at The Public on Friday 16 September at 7.45pm. Tickets are £10 and are available from
www.thepublic.com
or by calling 0121 533 7161.