 Father of Haroon Jahan speaks as Community unites in Birmingham Peace Rally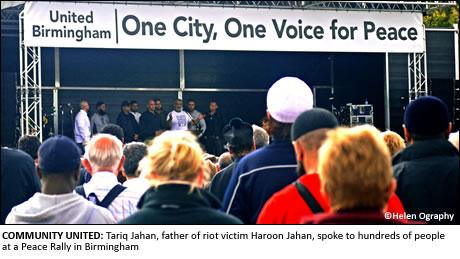 THE father of Birmingham riot victim Haroon Jahan urged thousands of people gathered in the city for a peace rally to remember his son and two brothers who were killed during rioting in the city a week ago.
Tariq Jahan, 46, spoke to thousands of people who had gathered in Summerfield Park in Winson Green for a peace rally on Sunday.
They stood side by side, from all faiths and backgrounds, to condemn nights of rioting in the city which claimed the lives of Haroon Jahan, 21, and brothers Shazad Ali, 30, and Abdul Musavir, 31.
The men, all from Winson Green, were hit by a car as they protected local businesses on Dudley Road from looters.
Speaking at the Peace Rally, Mr Khan said: "To me it's the month of Ramadan, as a Muslim I believe that this is a very special month.

"For us Muslims we believe the gates of heaven are open and the gates of hell are shut this month, so that gives me the strength to believe that the three boys did not die in vain, they died for this community and I hope that this community will remember them."
Abdul Qudos, brother of Shazad Ali and Abdul Musavir, also took to the stage.
Flanked by family and friends and struggling to contain his tears he thanked the local community for their support.
Cllr Mike Whitby, Leader of Birmingham City Council, said: "After some of the terrible scenes witnessed over the last week, this was a great opportunity to show how United Birmingham is.
"This event is a celebration of peace, and everything that is right about Birmingham and the country as a whole."

Police have charged three men with the murders of Haroon Jahan, Shazad Ali and Abdul Musavir.