 Father reveals heartbreaking moment he fought to save son's life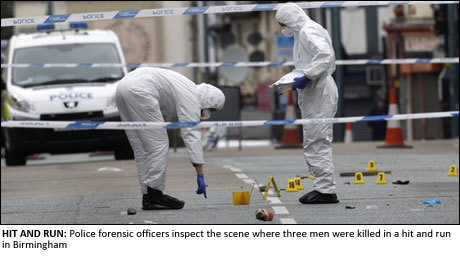 THREE Asian men killed in a hit-and-run in Birmingham were protecting their neighbourhood from rioters, it has been claimed.
The victims, aged 31, 30 and 20, were mown down by a car on Dudley Road in the Winson Green area of the city at 1.15am this morning.
Locals said the men had left a Mosque on Dudley Road shortly before the fatal hit and run and had been keen to protect local businesses as rioting and looting hit parts of the city for a second night.
The father of one of the victims has revealed how he rushed to the scene after hearing a bang to find his son lying seriously injured on the ground.
Speaking to BBC Radio 5 Live, Tariq Jahan said he started administering CPR to one of the other men before he realised his son, Haroon, was just yards from him.
He said: "I didn't see it with my own eyes. I heard a car coming at high speed. It was flying, then we heard a bang and heard a commotion. We started running towards the commotion.
"The first guy I found, I didn't know him, but I started giving him CPR until a guy pointed out that the guy behind me was my son. I started giving him CPR."
 "I can't explain losing my son. It is not meant to be. A father goes before his son, not a son before his father."
Mr Jahan also urged people not to take matters into their own hands during a time when tensions are running high across the city.
He said:  "I don't want the community to fall out with people that have got nothing to do with this, the community doesn't need that.
"My family wants time to grieve my son. People should let the law deal with this, not the people. It is already bad enough without people taking the law into their own hands."
Locals told reporters the three men were protecting their local mosque and neighbouring businesses when tragedy struck.
A 32-year-old arrested by Police is being questioned on suspicion of murder.