 Appeal for information to identify individuals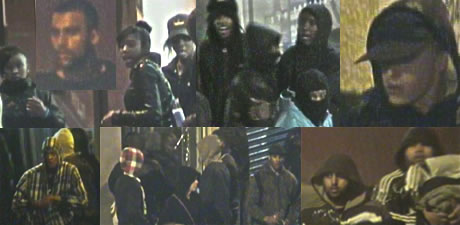 POLICE have released a number of CCTV images of people they want to trace in connection with violent disorders across Birmingham last night.
A full scale investigation has been launched by police as they look to trace those responsible for bringing havoc to the city.
Police say more than 700 people were involved in the disturbances with up to 30 shops broken into and looted.
Last night 133 people had been arrested, and that figure rose as police issued search warrants across the city today.
While most of the disorder was contained within the city centre, some gangs spilled into the Handsworth area of the city and set fire to an unmanned police station.
Two hotline numbers have been set up for the public to contact police with information on any of those pictured on the CCTV images.
Police are also keen to speak to anyone who may have filmed the disorder on their mobile phone.  
West Midlands Police Chief Constable Chris Sims described the violence as a "bad night for Birmingham", adding those responsible were not an "angry crowd", rather a "greedy crowd".
He said: "We learnt a lot last night, this was a very different disorder with a crowd focused on looting and theft. Our primary way of dealing with this will be to arrest and bring to justice as many people as possible by speeding up processes.
"There is shock, anger and disgust about what happened and many of the people involved were astonishingly young. We appeal to the parents and local community to keep their children indoors and safe. The tragedy is that young people without any previous criminal record will now be criminalised.
"We have contingency plans in place tonight which will see over 400 officers working extended shifts across the West Midlands, who will be able to respond to any situation that may develop."
Anybody with information on anyone in the pictures are asked to call freephone number 0800 096 0095 or local rate 0207 158 0125
Birmingham Disorder: West Midlands Police Chief Constable Chris Sims Press Conference