 Shami Chakrabarti presented with honour by Middlesex University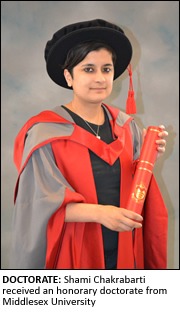 HUMAN rights campaigner Shami Chakrabarti has received an honorary doctorate from Middlesex University, in recognition of her achievements in the fields of law and human rights.
Shami has led human rights campaigning group Liberty since 2003, previously acting as the organisation's in-house counsel. Her role has seen her take a major role in Liberty's engagement with the "War on Terror" and with the defence and promotion of human rights values in Parliament, the Courts and wider society.

As one of the UK's leading voices on human rights issues she is also in demand as a writer, conference speaker and media commentator.
Before joining Liberty, Shami worked as a lawyer in the home office under both Conservative and Labour governments.
Shami Chakrabarti said: "It is heartening that this Honorary Doctorate recognises Liberty's work in human rights. The Human Rights Act has come under heavy fire recently – much of it inaccurate – and universities have a big part to play in debunking such myths.
"It is much tougher for students today than when I attended university 20 years ago, and they have plenty to be angry about. But they also have the ability to make change happen.
"In such difficult times, the value of education – of academic freedom and empowering young people to hold those in power to account – should not be underestimated."
Middlesex University Vice-Chancellor Michael Driscoll said: "We are very proud of our University's law and human rights expertise so it was a thrilling moment for students and staff to welcome and recognise one of the UK's leading lights in these fields.  The passion and determination Shami brings to her work is an example to anyone setting out on their own career journey."
Shami Chakrabarti collected her Honorary Doctorate at a ceremony at the University's Hendon Campus.
The award was made as part of the University's annual graduation celebrations, with honorary degrees presented to people who have made an outstanding contribution to their profession or the community.