 Flamboyant cricketer talks to The Asian Today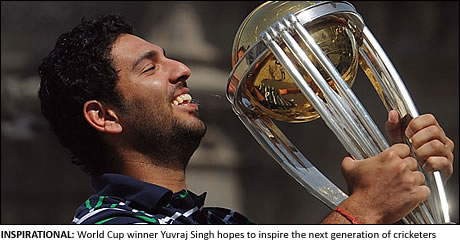 AS a youngster Indian World Cup winner Yuvraj Singh admits to seeing young talented cricketers being forced to walk away from the game because they couldn't afford to buy basic equipment.
It was a memory that stayed with him as he rose up the ranks to become a cricketing force for Team India.  
Today the 29-year-old is making sure youngsters have the opportunities available to them through the Yuvraj Singh Foundation.
Set up in 2009 the Foundation is aimed at supporting and developing sports for underprivileged children in India and across the world.
As a youngster Yuvraj had the support of his father, Indian cricketer Yograj Singh, as he learnt the finer points of cricket.
"I remember playing cricket in my back yard with my father," Yuvraj tells The Asian Today.
"There were a lot of kids coming up through the game with me, but I saw a lot of youngsters struggling because they were poor. They couldn't afford the equipment. My Foundation helps support young talented cricketers of the future."
Alongside the great Sachin Tendulkar and captain Mahendra Singh Dhoni, Yuvraj is one of India's biggest cricket stars.
And he acknowledges the responsibility he has in encouraging youngsters to get into cricket.
"Since the World Cup and the emergence of the Indian Premier League (IPL) youngsters are becoming more attracted to the game," he says.
"As part of the Foundation whenever we go to a certain city or meet youngsters we tell them the way to get into cricket is to play in grassroots initiatives."
But he admits the spectator allure of the 20 over IPL game is potentially damaging the way youngsters are viewing the game.
"First class cricket is a more important package in being a good cricketer rather than just concentrating on IPL," Yuvraj says.
"Its important youngsters don't just concentrate on shorter games like the IPL. Since the IPL a lot of cricketers only focus on being in an IPL team. The goal should be to play for India and not IPL."
When India won the World Cup earlier this year in front of an adoring 42,000-strong Mumbai crowd it was clear to see what the achievement meant to Yuvraj as he fell to his knees and broke down in tears.
"One day you dream of holding the World Cup and now the dream has come true," he says.
"I wouldn't say life has changed big time but it's definitely changed."
Yuvraj's heroics in the World Cup gave him a legion of young fans all eager to emulate his achievements in world cricket.
And it was the heroics of another player that Yuvraj looked up to as a young cricketer.
"I think I've always been inspired by Sachin Tendulkar," he says. "He's a very talented cricketer on the field and he's been a great ambassador for India over the years. It's been great learning a lot from him."
Yuvraj will hope to be included alongside Sachin for India's first Test match against England at Lords starting this week.
But while Sachin will be hoping to become the first player to score 100 international centuries during the series, for Yuvraj the goal is all together different.
A flamboyant and exciting player in the one-day and Twenty20 cricket format, his showing in Test cricket for India is disappointing  having been unable to cement his place in the side since his 2003 Test debut against New Zealand.
"I think I've got to take the desperation out of my game more and just try and focus on whatever cricket I get to play," Yuvraj says when asked about his Test game.
"I want to play more Test cricket. I haven't played much in my career for various reasons so I just want to focus on playing good cricket and see how it goes."
He describes England as a "dangerous" side adding India will have to play at the very top of their game to beat the home side.
For cricket fans in England the visit of the World Cup champions has added extra excitement to the impending battle between the two sides.
Yuvraj admits it's a "great feeling" coming to England as World Champions, especially because the team will play in front of their adoring British Indian supporters for the first time since that famous World Cup win.
He says: "We're looking forward to playing England in front of the Indian fan base we have here who will come to support us.
"England is like playing at home most of the time like in Birmingham or Lords. We get a lot of Indian support, and more so now having won the World Cup the support and buzz is going to be more and there are going to be a lot of telling games against England. 
So what advice does Yuvraj have to young budding cricketers here in Britain who will no doubt have already brought their tickets to see the man in action this summer?
"My advice would be to concentrate, work hard and be disciplined. It's important that you don't have any distractions and be prepared to work hard to reach your goal."
Wise words from Indian World Champion Yuvraj Singh.
Want to Get Involved in Two fantastic Cricket Events in Birmingham this August? Here's how you can get involved: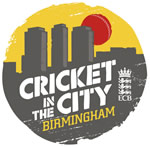 * The England and Wales Cricket Board is holding its first 'Cricket in the City' event between 10am-7pm on Monday 8th August in Victoria Square, Birmingham.
The ECB is offering you the chance to be part of a celebration of everything cricket – whether you're a lifelong fan or just intrigued what the sport has to offer – why not come down and have a look?
There will be lots of exciting events for the whole family, including the chance to have the chance to listen to a Q&A with some of the Indian cricket team!
ECB Cricket in the City – Birmingham, Monday 8th August 2011, 10am – 7pm, Victoria Square, Birmingham city centre, Admission is FREE
* The Bill Lloyd Memorial Trust Charity cricket day will be taking place on Sunday 7th August 2011 from 11.30am at Bourneville Cricket Club, Birmingham.
The match will pit the ECB Physical Disability XI against the British Army Development XI to raise funds and awareness for local charity The Bill Lloyd Memorial Trust Fund for the Development of Cricket & Cricketers at Grass Root Level as well as the Army Benevolent Fund, the Royal British Legion and the British Association for Cricketers with Disabilities.
England and Wales Cricket Board (ECB) Physical Disability XI v British Army Development XI – Bourneville Cricket Club, Sunday 7th August 2011, 11.30am, Admission is FREE.