 Duo killed Walsall man over relationship with their mother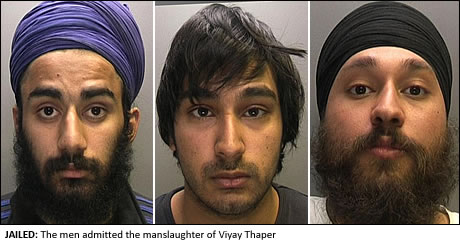 TWO brothers who killed a man after he began a relationship with their mother have been jailed.
Sandeep Lotey, 24, and Sarenjeet Lotey, 22, both from Milton Keynes attacked 61-year-old Vijay Thaper just yards from his house in January 2010.
Mr Thaper, from Bloxwich, Walsall, died weeks later from injuries brought on by the vicious assault.
Sandeep was jailed for six years and nine months, and his brother Sarenjeet to five years and nine months at Wolverhampton Crown Court.
Their cousin, Pritpal Singh Panesar, 21, from Handsworth, Birmingham was jailed for five years and nine months for his part in the attack.
All three men had pleaded guilty to manslaughter in June.
Paul Dhami, Crown Advocate for West Midlands Crown Prosecution Service, said the brothers were "motivated by the dishonour brought upon their family" when their mother ended her 25-year marriage to their father and rekindled a relationship with Mr Thaper.
"The Lotey brothers applied constant pressure to their mother to return to the family home and reconcile her relationship with their father, including verbal threats," Mr Dhami said.
"However, this was to no avail and so they hatched a plan to end her new relationship."
The brothers placed a GPS tracking device on their mother's car, allowing them to monitor her movements via the internet in real time.
Mr Thaper suffered injuries to both his legs following the assault on 13 January 2010.
Some weeks later Mr Thaper, now wheelchair bound following the attack, become unwell and was admitted to hospital where he died on 8 March 2010.
Because of his earlier injuries, a forensic post mortem was carried out which showed that Mr Thaper died form a pulmonary thrombosis, brought on by the injuries he sustained in January.
Police launched a murder inquiry and charged the three men with murder in August.
DI Gary Plant from Force CID said: "This was a tragic incident whereby Mr Vijay Thaper lost his life through the over protective and selfish actions of siblings trying to control the life and happiness of their mother.
"Vijay had done nothing more than enter into a loving relationship with a woman, which her children and other family members could not accept.
"West Midlands Police is committed to bringing to justice the minority of individuals who mistakenly believe they can act with impunity. The three convicted men will now have a period of time to reflect on their actions and the consequences of them.
"Our thoughts are with Vijay's family during this difficult time, as it must be remembered they have lost a loved one and have to live with the consequences of this terrible crime for the rest of their lives."