 Ruxana Suraya Saleem jailed for five years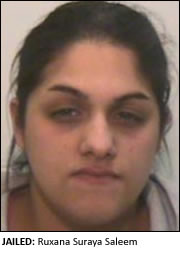 A TEENAGER has been jailed for robbing a pensioner at knifepoint.
Ruxana Suraya Saleem, 19, admitted one count of robbery and was jailed for five years at Bolton Crown Court.
Saleem befriended her 63-year-old victim in a lift at a block of flats in Rochdale on 5 March.
The woman, who was returning from a shopping trip, chatted with Saleem who got out several floors before her. A short time later Saleem called at the woman's flat and asked to use the toilet.
She was let in and given a cup of tea as they continued to talk.
When the woman asked Saleem to leave so she could have something to eat but Saleem produced a knife, which she put to her face while demanding a pound. She was given a pound then immediately demanded £10.
Saleem continued to demand cash and even told the woman she would put the knife up her nose.
She took cash and a mobile phone and threatened to return to the flat and set fire to it before leaving.
Detective Constable Janice Cruttwell, of Rochdale CID, said: "Saleem terrified and threatened the victim at knifepoint and all she got her hands on was a few pounds and a mobile phone worth just as much
"She has now been jailed for this needless offence and her actions clearly prove that crime does not pay.
"Despite her young years she has a relatively long history of offending and I hope this sentence will act as the wakeup call she clearly needs to change her ways."