 11 robberies reported in last month alone in Handsworth, Birmingham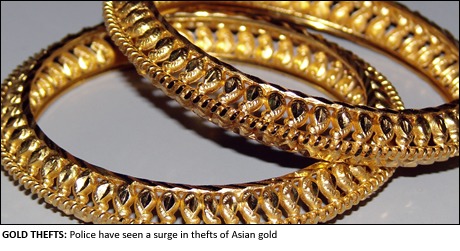 ASIAN women in the Handsworth area of Birmingham are being warned to be on their guard following a rise of gold thefts in the area.
Police say 11 robberies were reported in the last month alone along Soho Road, Grove Lane and Rookery Road.
High value necklaces and earrings are being snatched from victims at bus stops or as they walk along the street.
Now Police are launching a targeted operation to tackle the street robberies in the area and are advising Asian women to wear their gold items discreetly.

Chief Inspector Mike O'Hara from Birmingham Central Police, said: "We are asking people to think twice about openly wearing valuable irreplaceable jewellery.

"We advise discretion; simply keep your jewellery tucked into clothes. You never know who is around you. It's a sorry fact of life but what you possess may be attractive to thieves.

"That said, we would like to reassure our local communities we are actively driving down street robbery and we do have a number of tactics in place to ensure this new wave of incidents is eradicated."

The force is also launching a marketing campaign to help promote crime prevention, particularly to members of the Asian community.

The campaign will involve radio appearances for local officers and advertising in affected streets.

Officers will also be visiting Mosques and Temples to speak with worshippers and visitors, asking them to spread the word amongst family and friends.