 City pupils design posters aimed at reducing rubbish fires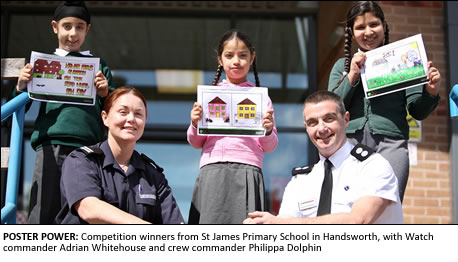 PUPILS from St James Primary School in Handsworth have won praise from firefighters after designing a series of posters in a competition aimed at reducing rubbish fires.
The children were asked to design a poster to warn the local community about the dangers of piling up rubbish and putting domestic waste out for collection too early – because of the increased risk of arson.
Firefighters from Handsworth Orange Watch came up with the idea of running the competition after two fires occurred in the same area in three days. One caused serious damage to three houses, and the other damaged a tree. Both blazes started as a result of rubbish being set on fire.
Watch commander Adrian Whitehouse from Handsworth fire station said: "These fires caused a lot of damage and yet incidents of this nature are so easily preventable, just by following a few simple precautions. 
"People can significantly reduce the risk of arson by not piling up their rubbish or putting bin bags out too early on collection day", he said.
The winning poster entries were carefully selected by the Lord and Lady Mayoress of Birmingham and prizes including mugs, colouring books and pens – all featuring fire safety messages – were presented by watch commander Whitehouse and crew commander Philippa Dolphin. 
There were five competition winners including and overall winner, who was presented with a book token as well as a bag full of fire safety goodies.
"We had some great poster designs in the competition and the children have done an excellent job in highlighting the issue to the community", added Watch commander Whitehouse.