 38 years of service for Gurcharan Singh Dhesi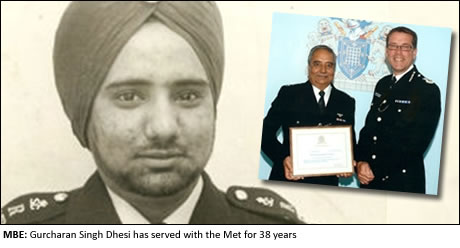 LONDON'S longest serving Asian special constable is to receive an MBE.
Gurcharan Singh Dhesi, 61, was recognised in the Queen's Birthday Honours following an incredible 38 years of service.
The proud father-of-three, who works with young people and the community in Bexley, joined the Metropolitan Police Service way back in 1973.
"I am so happy to get this award," he said.
"I have spent more than half my life at the Met and I love it. I regularly work between 700 and 1000 hours a year. It is such an honour to be recognised like this. I really enjoy helping young people and the community."

The grandfather-of-five, who came to the UK in 1960 after his father died added: "When I joined the Met there were hardly any people wearing turbans and now there are lots of us. It is great to see how things have developed in the Met over the past 38 years."

Gurcharan – known as Dhesi – also works with young people teaching them street awareness. He has received other awards from the Met including a Commander's commendation for services to the Special Constabulary. He was recently asked to work at the Royal wedding in April.

He added: "It was such an honour to be asked to help on such a fantastic occasion. It was a great day, the crowd was brilliant. I loved it."