 'Lasting Legacy Award' for Birmingham cricket academy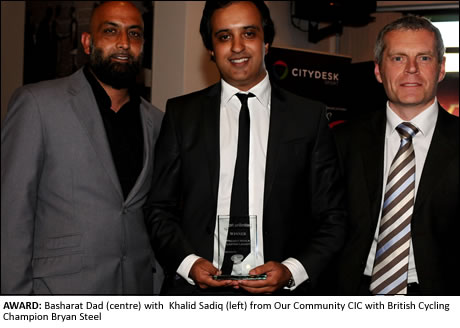 A BIRMINGHAM cricket academy has won a prestigious community award.
Our Community CIC, based in Washwood Heath, was presented with the 'Sport Unlimited Lasting Legacy Award 2011' at a special ceremony at Aston Villa Football Club.
The organisation launched in 2006 and runs programmes helping people with their employment needs, developing local sport and delivering youth work projects.
Set up in June 2010, the cricket academy was launched with Sport Unlimited funding with more than 70 youngsters signing up to it. Today the academy enjoys a fruitful partnership with Birmingham Youth Service and is part funded by West Midlands Police.
Director Basharat Dad said: "What we feel worked well was the partnership we put in place to develop the project. We invited Birmingham Youth Service to work with us, this meant that not only did we have qualified coaches to train young people but a youth worker on-site to provide additional support in other areas such as mentoring, befriending and to provide guidance.
"West Midlands Police funded the project and helped sustain it. They saw the impact of the project first hand and high numbers engaged, which helped reduce anti social behaviour in key hot spot areas from Washwood Heath. Since then we have over 30 young people regularly attending sessions and we have entered teams in the Warwickshire indoor league and have developed path ways with Warwickshire C.C.
"This award is a team effort, special thanks to Coaches Khalid and Eaton, Ameen and colleagues from The Naseby Centre, Sport Unlimited and West Midlands Police."
In 2010 Our Community CIC was honoured with the 'Enterprising Communities, Social Enterprise of the Year Award in 2010'.