 How the Indian film industry is revelling in a more cosmopolitan cast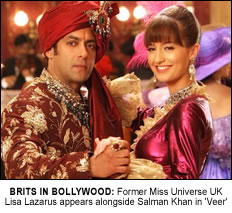 WITH Aamir Khan currently riding the highs of the Bollywood box office at present with '3 Idiots', another Khan is set to make his splash later this month.
Salman Khan's period drama 'Veer' is expected to be one of Bollywood's biggest films of the year. An all-star budget is complimented by an all-star cast –and not all of them are Indian.
With a story encompassing Britain's all-conquering rule over India, it was inevitable makers of the film captured a diverse cast.
Step forward Lisa Lazarus, Tim Lawrence and William Chubb.
The trio will grace the big screen on January 22 when Veer is released across the UK.
So who are the trio that could become part of one of Bollywood's biggest films?
Let's find out.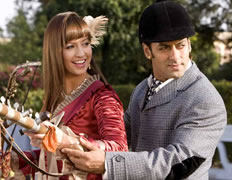 Lisa Lazarus

Lisa Lazarus has been an established model since the young age of 13, modelling for brands such as Elizabeth Arden, GHD, Tigi Bed Head, Leekes and more. Lisa gained a few years experience before entering into the glamorous life style of beauty pageants. She won her first title Miss Llanelli at the age of 16, then went on to win Miss Swansea, 3rd place in Miss Wales and 12th runner up to Danielle Lloyd in Miss Great Britain 2006. Lisa's success gave her the opportunity to represent Wales in the 'Model of the World' competition held in Africa where she was awarded 'Miss Bikini Great Britain 2006'. Most recently Lisa won the Miss Universe UK 2008 title, and represented the UK in the famous Miss Universe competition owned by Mr Donald Trump.
Lisa makes her debut in Bollywood in 'Veer' starring opposite superstar Salman Khan. In the Lisa plays the character of Angelina, a very glamorous and sweet English girl and the well cultured and cheerful daughter of Resident Madhavgarh. She has come to India to explore its beauty and to learn about its culture and tradition. Lisa falls in love with Salman Khan – but the Welsh beauty will have to fight for the affections of Salman on screen with another lead actress Zarine Khan.
Tim Lawrence 

Tim has been in the Bollywood industry for many years having started his career in 2004 in the Sohail Khan 2004 film 'I Proud to be Indian'.
In Veer Tim plays 'Fraser' – a hardcore British defence officer who gets promoted to Governor General. A cruel man, Fraser is desperate to keep British rule over India, and will kill to achieve his aim.
As the story progresses Fraser sets up a British education policy in the UK but with a double twist to it.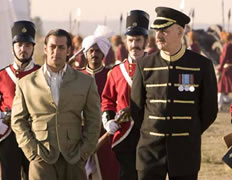 William Chubb
William Chubb's long acting career has encompassed appearances in theatre, television and film. In particular he is known for his roles in West End theatre, which include Richard Greatham in Noel Coward's 'Hay Fever' with Judi Dench and Dr Emerson in 'Whose Life is it anyway?' His television appearances include leading roles in 'The Ambassador' with Pauline Collins and 'Extremely Dangerous' with Sean Bean. His films include 'The Affair of the Necklace' and 'Gladiatress'. He is currently rehearsing Peter Hall's new production of A Midsummer Night's Dream with Judi Dench.
In Veer William plays Steve, the British administrator of the Kingdom of Madhavgarh. The role involved shooting at film city in Mumbai, and on location in Rajasthan, and several of the scenes included dialogue with Salman Khan.
Veer is released nationwide on 22 January 2010