 Celebs light up food festival celebrating 11 years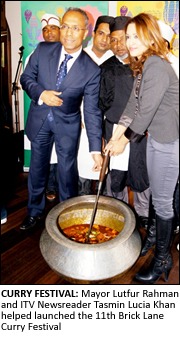 A HOST of celebrities have helped launch the 11th Brick Lane Curry Festival.
The annual festival is a hit with curry lovers across the capital with local award-winning chefs cooking up a host of mouth watering dishes for visitors to sample.
The festival was launched at the Shampan Restaurant in Brick Lane by ITV Daybreak's Newsreader Tasmin Lucia Khan, Founder and Chairman of Cobra Beer Lord Karan Bilimoria and Mayor of Tower Hamlets Lutfur Rahman.
Chefs from participating restaurants contributed their signature dishes in a special lunch where guests were able to taste a range of different dishes and flavours.
Lord Karan Bilimoria, Founder and Chairman of Cobra Beer, himself a former resident of Brick Lane said the area still held fond memories.
"It is always a joy to be associated with the Curry Festival in Brick Lane as this is where Cobra was first born," he said.
"I will always remember driving down the street in my battered old car selling Cobra from the back of my boot. Without the help of the Brick Lane restaurateurs I wouldn't be stood here today. My father, General Bilimoria also was involved in fighting for the liberation of Bangladesh and thus the country and its people hold a special place in my heart and that of my family."
ITV'S Daybreak Newsreader Tasmin Lucia Khan added: "I love curry and can cook some great dishes. I am especially looking forward to the Festival this year and am proud of how much the Indian restaurant has achieved in creating a 4billion pound industry. "
With its prime location in the centre of East London, the area surrounding Brick Lane has now been officially declared as the official 'Olympic Curry Village' for the London 2012 Olympics and Paralympics.
The Curry Festival continues until Sunday 15th May.