 Work begins to dismantle Project Champion camera network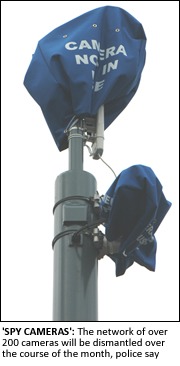 WORK has begun to remove a network of 'spy cameras' put up in predominantly Muslim areas in Birmingham.
West Midlands Police said the cameras – which had hoods placed over them following an outcry – would be dismantled over the course of the month.
Last year the Force apologised for the way it went about planning and putting up more than 200 covert and overt cameras as part of its Project Champion scheme in the Washwood Heath and Sparkbrook areas of the city after an independent report said they failed to question the scheme's "proportionality, legitimacy, authority and necessity."
Critics said the cameras, some of which are hidden, were being used to spy on the Muslim community after it emerged the initiative was financed through a counter-terrorism fund.
Acting Chief Constable Sharon Rowe, who has been leading the project to remove the cameras said: "The work starting today shows that we have listened to what our communities wanted and acted upon those wishes.
"We have liaised closely with our communities to keep them informed of developments and when they can expect cameras to be removed from actual streets.
"I would like to stress that the cameras have never been operational.

"We accept that mistakes were made and we are keen to learn the lessons that emerged from the review into Project Champion. The removal of the cameras is part of that learning process.

"Our neighbourhood teams will now focus on forging closer links with local communities across the affected areas."

Councillor Ayoub Khan, Cabinet Member for Local Services and Community Safety added: "Birmingham City Council undertook a review into the handling of Project Champion and I am pleased that the recommendations of that report and the voice of the local community has been heard.

"I am now keen to move on and to work closely with the police and all communities across the city for a joint effort in the fight against crime and keeping our streets safe."