 IPCC renew investigation into death of father-of-three Habib Ullah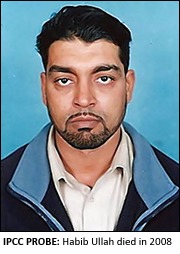 AN inquest into the police custody death of a High Wycombe father has been halted after The Independent Police Complaints Commission re-opened its investigation into his death.
Habib Ullah, 39, died during a drugs stop and search by Police Officers on a vehicle in a car park in High Wycombe in July 2008. The father-of three suffered cardiac arrest after officers attempted to force a package of drugs out of his mouth
In extraordinary developments coroner Richard Hulett agreed to an IPCC application to adjourn the inquest after it emerged a solicitor had advised police officers to alter their statements the day after the incident.
The IPCC will now re-open its investigation into Mr Ullah's death. It's a move welcomed by his family who have campaigned for answers into his death.
"The decision vindicates the family's and the campaign's position from day one that events after Habib died were badly managed and fixed by Thames Valley Police but it is frustrating for us that the inquest ended as we felt we were getting somewhere," a statement by Mr Ullah's family said.
A spokesperson for the IPCC said: "The IPCC has decided to re-open its independent investigation in the light of new information arising from statements made by police officers while giving evidence at the inquest."
Mr Ullah's family will hold a candlelit vigil outside High Wycombe Police Station this Saturday on what would have been his 42nd birthday.