 Chairman Sir Iqbal Sacranie speaks to Zeenat Moosa
BRITISH charity Muslim Aid celebrates 25 years of reaching out to the world's poorest communities. Zeenat Moosa spoke to the charity's Chairman Sir Iqbal Sacranie.
Muslim Aid is celebrating turning 25 years – what was the main of setting up the charity?
Muslim Aid was founded in 1985 by leading British Muslim organisations responding to the endemic humanitarian crisis in Africa. The incredible support that our emergency relief projects received, inspired and motivated all the founders not just to continue, but to expand and explore more opportunities to offer a hand to people in need around the world.
In 1986, Muslim Aid expanded its emergency aid projects to help those affected by continuing conflicts in Afghanistan and Palestine and the devastating floods in Bangladesh. By the early 1990's, Muslim Aid's emergency relief projects had helped millions across Africa, Asia and Europe.
Whilst continuing to deliver emergency relief, Muslim Aid also began to implement long-term development initiatives, all of which focused on tackling the root causes of poverty, to which Muslim Aid remains committed.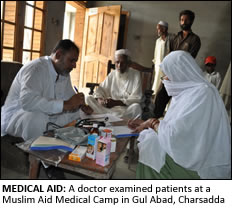 For those of our readers who may not be familiar with Muslim Aid, what projects have you covered and where do you work?
Long term development programmes include Education, Water and Sanitation, Health care, Microfinance and livelihood, Housing and Reconstruction, women's development, child sponsorship, UK development projects. Muslim Aid is also a leading charity in Emergency and Disaster response programmes. We delivered immediate rescue and recovery programmes within few hours after the Tsunami in Indonesia, Cyclone Sidr in Bangladesh and Earthquake in Pakistan
Moreover we have seasonal programmes such as Ramadan and Qurbani to provide food aid to poor and needy people around the world. 
Our 13 field offices (including two regional co-ordination offices) follow Muslim Aid's Mission to help alleviate poverty, provide education for all and the provision of basic amenities for those in need; in order to create a world where charity and compassion produce justice, self reliance and human development. 
Education Really Matters (UK Development) raises awareness of and explores ways to tackle poverty in the UK. The three year project, now in its second year, has created a pen pal network between four Islamic schools in London and young people supported through Muslim Aid's global Rainbow Family Child Support Programme. Displays illustrating the knowledge children have gained from the experience have been exhibited in schools across London. The project aims to raise awareness among young people in London about the challenges faced by children in accessing an education in developing countries. 
The Pathways to Citizenship Programme, funded by London Councils, is part of a strategy to inspire and improve effectiveness of organisations working with young people to help tackle the causes and consequences of disaffection. The project seeks to engage a wide range of projects and organisations from the Muslim community within London. This includes capacity building of organisations within London Boroughs, increasing support to improve provisions for young people, developing organisational accreditation, providing networking opportunities and developing support for community leaders in understanding the concerns of young people.
In those 25 years what has been the proudest moment for Muslim Aid?
The 25th Anniversary year has been a year for reflecting on our previous work and realizing how much of a difference has been made. I think reaching this milestone has been a great achievement. We are delighted to see that over past 25 years Muslim Aid has secured a place as one of the most trusted and respected charity in the hearts and minds of millions of donors and beneficiaries across the world.
The recent floods in Pakistan has been on the minds of all British Pakistani's – is Muslim Aid still in Pakistan?
Yes very much so – and in it for the long-term. Muslim Aid's loyal and firm donor base has donated over £2.7million for the victims of this terrible disaster. We have one main field office based in Islamabad but during the time of the crisis six teams were deployed in the worst hit areas distributing aid and humanitarian relief. Muslim Aid was also a key player in the UN organised cluster meetings on areas of Health and WATSAN. The total amount spent to date in Pakistan amounts to £500,000. We will use the remaining 2 million as seed funds to build villages.
As part of Muslim Aid's long term development programme, a plan to adopt four villages in each of the four provinces is underway. The re-building of these villages will include: Building of permanent housing/shelter, Education: Installation of primary and secondary education institutions, Health: Provision of a permanent hospital, WATSAN: Generation of water purification and extraction systems, Livelihoods: Loans to small to medium enterprises (SME) under microfinance.
Muslim Aid is currently finalising this rehabilitative plan and is in the process of identifying the need, cost and expertise that will be required for rebuilding these villages. Feasibility report is being conducted on the types of housing which will be best. 
We are aware that adopting four villages is still a 'drop in the ocean' in light of the scale of the devastation which took place. However, our aim is to produce a model for rehabilitating villages that can be followed by other NGOS to speed up the overall rehabilitation of Pakistan. Currently there has been positive interest from the UK business community for this project.
Muslim Aid received full support from the Government of Pakistan, our teams were supported by local government agencies and there were no problems. It is important to separate politics from such a large scale humanitarian crisis. Muslim Aid takes the policy of not working with partners as we have the staff and resources to implement disaster relief work. Therefore we mitigate the chance of these groups infiltrating our organisation. 
There is a concern by local people and agencies about the intervention of international organisations in general. However, Muslim Aid has had a strong and consistent presence in Pakistan and a proven track record in delivering rapid humanitarian assistance.
We invited the British philanthropist business community and British nationals to adopt any of the five sectors in the Muslim Aid villages.
What has the response been from the Muslim community to the Pakistan floods emergency?
The response from our support base has been exceptional. For example, in the first four weeks, Muslim Aid had raised £1 million which then increased to £2.6 million. During the emergency our field office was on the ground providing immediate relief. Muslim Aid pooled its resources from both Headquarters and the Bangladesh Field Office, to mount an appropriate response within days the army transport landed field staff and volunteers to implement emergency programmes.
Four months on, what is your take on the state of Pakistan at the moment?
As a natural disaster it has been the worst in Pakistan for 80 years and as stated by the UN Sec-General, Ban ki Moon, worse than the Tsunami and Haiti earthquake put together. The flooding resulted in 1400 deaths with 20 million people affected through displacement, damage to property and destruction of livelihoods. It is big because of the knock on affects-Dengue fever outbreak, loss of agricultural production; rise in cotton prices; rise in prices of tools; unemployment; social unrest; terrorism and threat to democracy.
Is Aid actually now being received to those who need it most?
We can only speak for the areas we work in. Muslim Aid was one of the first NGOs on the ground providing immediate assistance. Muslim Aid is providing assistance to the worst affected areas of Kyber Pakhtunkhwa Province (Charsadda and Nowshera), Punjab province (Mianwali and Jampur) and Sindh province (Thatta, Sukkur, Shikarpur and Shahdadkot). In order to ensure that aid reaches the people who need it most, our staffs and volunteers are directly going to the affected areas to distribute relief.
Is there anything more that needs to be done?
Yes there is a lot to be done. With the scale of the disaster in mind the effects are far reaching and devastating. The large-scale damage to livestock, houses, bridges, link roads and communication infrastructure, it is estimated that it will take about 25 years for Pakistan to recover from the effects of this disaster.
Although Muslim Aid has provided immediate, on the ground assistance there needs to be a coordinated international response for reversing this 25 years worth of damage! For example one of the ways that Muslim Aid has envisioned the future reconstruction of Pakistan is by calling the international community to write-off the IMF debts for Pakistan. Articulated at the OIC conference in Islamabad back in August/September 2010, Muslim Aid stated that an IMF debt write-off will allow Pakistan to release as much as $50 billion from its domestic resource base to re-build the infrastructure destroyed by the floods and help the lives of 20 million people affected by the crisis. 
The name of your charity is Muslim Aid – does that mean you only take donations from Muslims?
No, Muslim Aid is a premier British Muslim relief and development agency, guided by the teachings of Islam. It endeavours to tackle poverty and its causes by developing innovative and sustainable solutions that enable individuals from all backgrounds to live with dignity and by supporting initiatives that promote economic and social justice.
All of our programmes are based on humanitarian principles and some of our specialist programmes also cover Islamic obligations or religious dues e.g. Ramadan, Qurbani and Zakat. For example, we distribute Qurbani in over 40 countries
In January Muslim Aid raised over a half a million pounds for the Haiti earthquake appeal. Muslim Aid has been working with partner organizations in Haiti, to help distribute vital emergency relief and to deliver long-term development projects, including the 'Fast Recovery of Food Production' project designed to help around 5,000 people made homeless following the earthquake. Further projects already underway include the provision of a water purification system for up to 900 families in the area of Carrefour, in Port-au-Prince. Furthermore a permanent member of staff has been employed to oversee our long term development projects in Haiti.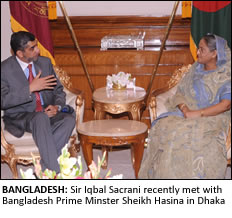 And in terms of Bangladesh and the devastation that hit there – how is the country coping?
Muslim Aid has a strong track record in Bangladesh. It is one of our largest recipients.
Muslim Aid in Bangladesh employs over 1000 staff in over 60 sub-offices and projects around the country and works in 55 of the 65 provinces. The current number of beneficiaries in Bangladesh has risen to 1.5 million. Muslim Aid has helped to lift people out of extreme poverty so that they can now earn a living on their own. This is a very positive turnaround in the context of Bangladesh, where 40% of the population lives below the poverty line. Amount in projects spent in 2009 was £3.5 million covering emergency, shelter and micro financing. 
A recent trip to Bangladesh was a way of checking that the money raised by the donor community was used in the best possible way. During the short tour a general review was conducted of the projects and programmes in the areas of Moheshkhali, Teknaf and Dhaka. In total 8 projects sites were visited.
Meetings were held with Field Office Programme Managers for reviewing their programmes and issues. 
Your message to our Muslim readers?
Muslim Aid is proud of its community base. We are very appreciative and grateful for their continuing support. We view this as the ultimate hallmark of a responsible community. With their donations and support they have awarded us the opportunity to make their contribution reach the needy beneficiary. Coming back from Bangladesh and seeing the work we have done there, I can find no words to describe the deep feeling of satisfaction at sharing in making a difference to the lives of those in need of help. We assure our supporters that we are continually striving to cut costs and improve our services to help people around the world.