 Sergeant Khizra Dhindsa is 'inspiration' and 'role model to British Muslims'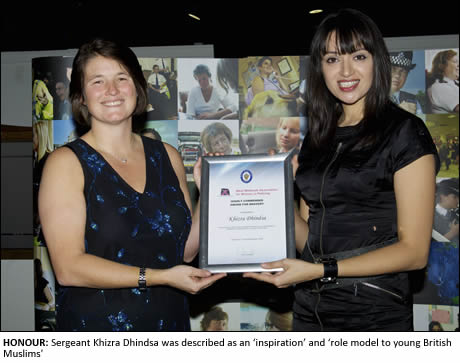 A POLICE officer from East Birmingham has been honoured at a prestigious event to celebrate the achievements of women in policing.
Sergeant Khizra Dhindsa was highly commended for bravery by the West Midlands Association for Women in Policing.
Sgt Dhindsa, who joined West Midlands Police in 2001, is currently a neighbourhood sergeant with the Shard End neighbourhood policing team.
She was commended for her bravery and 'unique communication skills' when dealing with an armed male who was threatening to take his own life.
On 7 March 2010, Sgt Dhindsa responded to an immediate response call reporting a male who was armed with a knife.
Upon her arrival she was told by colleagues already at the scene that an 18-year-old male was suffering from a mental breakdown and was threatening to take his own life. Despite being sprayed with CS gas by officers, the male was still armed and hostile towards officers who were trying to calm him down.
Aware of the risk to her own safety, Sgt Dhindsa spoke to the man alone and persuaded him to drop the knife and walk towards her.
She has been commended for her 'unique communication skills and calm approach' which prevented the crisis from ending with the loss of an innocent life. Sgt Dhindsa accompanied the man to hospital where he received treatment for a mental health condition.
Sgt Dhindsa's colleagues, who were present at the scene, said it was 'nothing short of miraculous' that no one had been injured.
Chief Superintendent Surjeet Manku, from Birmingham East Police, said: "Khizra was faced with a critical and life-threatening situation. She put her own safety at risk to save this man.
"She has been highly commended for her outstanding bravery, professionalism and duty of care. We are very fortunate and proud to have such dedicated and brave police officers working in the West Midlands."
Sgt Dhindsa was also recognised for her work as a community leader at an awards ceremony in London last month.
She won the Community Leadership category at the Mosaic Talent Awards. The Mosaic awards recognise and celebrate the hard work and determination of young British Muslims from across the country.
The awards ceremony, held at Battersea Power Station, was attended by over 550 guests including Guest of Honour HRH Prince El Hassan bin Talal of Jordan.
Princess Badiya of Jordan, who presented Sgt Dhindsa with her award, told her she was 'an inspiration and a role model to young British Muslims'.