 Heartbreak for duo as they fail in World Record Attempts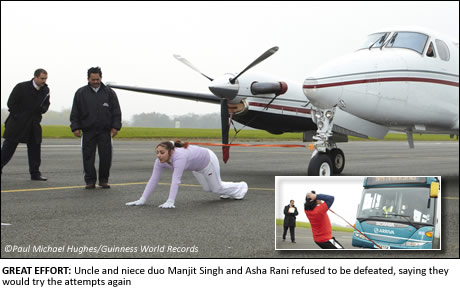 AS Guinness World Records go, these could rate as two of the wackiest – attempting to pull a 6.8 tonne plane with your pony tail and attempting to pull a 12.2 tonne bus with your teeth!
But for uncle and niece duo Manjit Singh and Asha Rani the records proved a pull too far as they failed in their world record attempts.
The duo joined millions across the world to celebrate the sixth annual Guinness World Records Day.
Ironman Manjit is already a celebrity in his home city of Leicester having successfully pulled a double-decker bus by his hair last year.
But this year the 60-year-old wanted to go a step further by attempting to pull a 12.2 tonne bus with his teeth.
Flanked by family and friends Manjit tried several times to accomplish the feat but was eventually forced to call it a day.
His niece, Asha – dubbed India's 'Iron Queen' – has been training for four years to reach the record heights of her famous uncle. The 20-year-old flew into the UK from India four months ago to undergo precise training for her world record attempt.
But the effort – Farthest Distance to Pull a Plane with the Hair – proved too much and she also failed despite an admirable effort in difficult weather conditions
Despite the setback Manjit vowed both he and Asha will be back for more crazy world record attempts.
"It was windy and cold and that made it very, very difficult," he said.
"I will try again in the summer. My philosophy is there is always another chance."
Rob Molloy Guinness World Records Adjudicator said: "What we've seen with Asha attempting to pull a 6.8 tonne plane as part of Guinness World Records Day is absolutely astounding. She came over to the UK from India four months ago to begin her specific training for this and it's an enormous effort to try and pull something like this."